Back to News
B$Z: Barrett Christy to Receive Legend Award at TransWorld Snowboarding's Riders' Poll Award Show
January 29, 2016
Barrett Christy may hold the title of Director of Awesome at Gnu Snowboards, but this year we are proud to add another moniker—that of Legend. The fact that her pro model with Gnu has lasted 20 years speaks volumes about the depth of her career.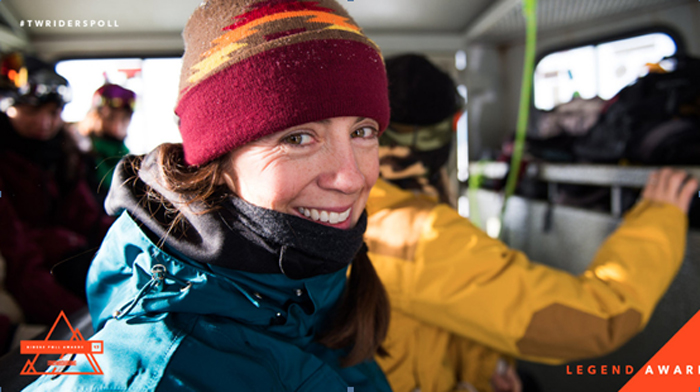 Barrett dominated the contest scene from the mid-'90s to the early 2000s, winning everything from the Burton US Open halfpipe and the first X Games big air in 1997 to Mt. Baker's Legendary Banked Slalom alongside her now husband Temple Cummins in 2001. She rounded out her major competition rankings with a bronze at the 2002 X Games slopestyle, leaving her with an incredible 11 X Games medals. Beyond competition, she found time to film for the all-women's movies Our Turn and Hardly Angels.

She was a member of the first US Olympic snowboard team in 1998, claimed TransWorld SNOWboarding's Readers' Choice awards in 1999 and 2000 and the cover of TransWorld SNOWboarding's 2000 Buyer's Guide supplemental issue. She transcended into the mainstream by landing on an Apple Jacks cereal box cover, as well as the cover of Women Outside. It was rumored that a Ween song was written about her.

"She set the tone for progressive women's snowboarding and showed women that there were no barriers," says Mervin co-founder Pete Saari. "She carried the entire Gnu brand for a period in the mid-'90s.

During her pro career, Barrett was one of the most dynamic riders to watch as she pushed the limits of women's snowboarding. At the 1999 Summer X Games big air in San Francisco, she invented her own signature trick, a switch toeside frontside 540, similar to a frontside rodeo, but with the front shoulder dipped down instead of up. Moments after riding away from the oddly corked trick for the first time, announcer Kris Jamieson coined it the Barrett Roll. Over the next few years, Barrett worked the move into her slopestyle runs and used it to win three major medals.

Today, Barrett is a mother of two and a mentor to many others including Jamie Anderson and Kaitlyn Farrington. As Barrett's passion for snowboarding continues to burn bright, please join us on Friday, January 29 at the Ogden Theatre in Denver, Colorado to honor her with the 2016 Legend Award. Doors open at 7:00 p.m. The show starts at 8:30 p.m.

For those who can't make it, follow us on Instagram and Twitter @TWSNOW and catch videos of the winners at TWSNOW.com/riderspoll.

The Riders' Poll Awards are sponsored by Under Armour, Protect Our Winters, and Pabst Blue Ribbon.
---