Back to News
B$Z: Tucker Hibbert Earns a Record Ninth Consecutive Gold in Monster Energy Snowmobile Snocross
January 29, 2016
On top for a record nine years, dominance was once again the word to best describe Tucker Hibbert as he earned Gold in Monster Energy Snowmobile Snocross today at X Games Aspen 2016. It was all Hibbert all day as he easily won his semifinals race before owning the finals, bagging his record-setting ninth-straight Gold in the event, and tenth gold overall.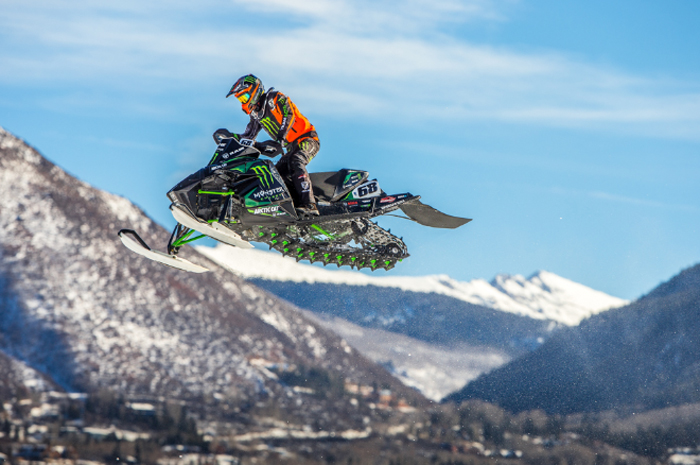 photo credit: Joe Wiegele

With today's win, he's now tied for the most consecutive golds in a single discipline, matching the record set by his Monster Energy teammate, Jamie Bestwick, who has nine golds in BMX Vert.
This year's Snocross course was full of tricky banks, a step-on step-off feature, and a huge 80-foot jump right before the finish line, sending racers sailing about 100 feet as they cleared the jump. A slightly tracked-out course and a setting sun meant slightly more challenge for the racers today.
Dominant from the get-go, in the finals Hibbert controlled the first corner from the inside, taking the immediate lead. The #68 Monster Energy sled was running clean and fast, and true to form Hibbert took that early lead and ran with it. Where the rest of the field needed to check before jumps, slow down, and run cautiously in certain zones, Hibbert displayed his ability to keep the throttle pinned and maintained tons of momentum throughout every turn. The rest of the field needed Hibbert to make a mistake if they had a chance to ruin Hibbert's nine-peat hopes, but that mistake never came. Hibbert stayed consistent and strong, constantly stretching his lead over 20 laps until the checkered flag flew. He was ahead by over 10 seconds by the end of it all.
Immediately after the race, Hibbert said, "It's crazy to think about. We've been working so hard for it, and today everything went as good as it could and went as planned. It was super slippery out there, so I had to be safe and consistent in the turns. But I'm pumped, it's awesome!"
More than just the man to beat, Hibbert is regarded as one of the best snowmobile racers in the world and has been nothing short of dominant for the last nine years. After taking gold as a young 15-year-old in 2000, he rebuilt over the next few years before beginning his unprecedented winning streak. A rider that's simply used to winning, from his diet and his workout regimen to the perfect set up of his sled, the Minnesota-resident is a classic hard worker with the talent to match.
Check out monsterenergy.com for more on Hibbert and the rest of the Monster Energy team. The site is loaded with exclusive photos, videos, and behind-the-scenes happenings direct from X Games Aspen 2016. Follow us on Instagram and Twitter and search #UnleashedAtX.
For interview or photo requests contact Kim Dresser.
---