BACK TO NEWS
B$Z: Monster Energy's Gus Kenworthy Takes Silver in Men's Ski SuperPipe at X Games Aspen 2016
Monster Energy's Gus Kenworthy went huge tonight in Men's Ski SuperPipe at X Games Aspen 2016, taking the silver medal in a hotly contested final. This is the first X Games medal for the Colorado skier—one of the busiest and most successful skiers on the contest scene, he finally has an X Games medal to his name.
The X Games Ski SuperPipe event sees the best freeskiers in the world giving it their all on the massive 22' icy SuperPipe that is custom-built for this weekend's event. Each rider gets three runs, with the top scores determining the podium finishers. With the best guys able to throw an amazing five doubles in their runs, skiers had to really push themselves if they had any hope for the podium.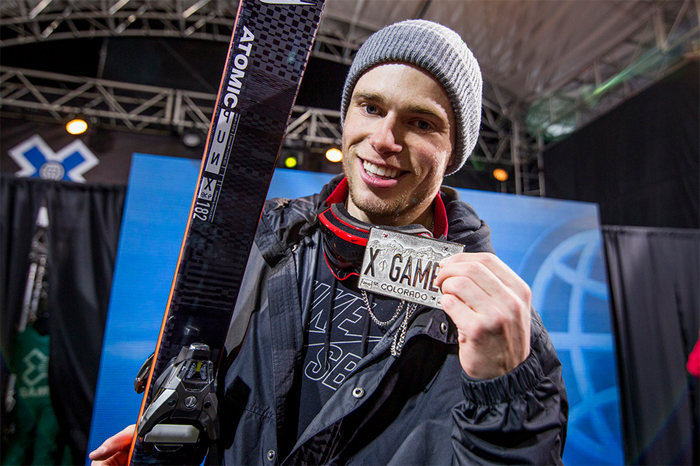 Fighting through a heel injury, Kenworthy taped-up his feet and relied on the adrenaline of the competition to get him through it. He came out of the gates hot, chalking up a very solid 91.33 to take the early lead. His best score came on his second run, as he eliminated a little hand drag and cleaned up his run. He dropped in and kicked things off his run with a massive nearly 18-foot hit. Throughout the competition he stayed fast and focused as he went huge, with his biggest boost a massive 20'6". After a Double Cork 1260 safety, he pulled a rightside 1080 lead tail, switch double flip 1080 Japan, alley-oop double flatspin 900 Japan, and finally a double cork 1080 safety. That score was an improvement of a full point to a 92.33, which was enough to secure the silver. Check out his Silver medal run here.
"This feels incredible," said Kenworthy after finals. "This is my fifth year coming to Aspen for X Games, and I've just narrowly missed the podium a few times. I've wanted this my whole life; growing up all I wanted to do was medal at the X Games. To finally make that dream come true feels so good. That was the best pipe run that I've ever landed, and it feels really good."
Though this is the first X Games medal stateside for Kenworthy, he's no stranger to the podium. After a breakout year in 2010 that saw him winning both superpipe and slopestyle at the Aspen/Snowmass Open, he continued filling his trophy case. He took silver in ski slopestyle at the Sochi Olympics, and has bagged numerous straight AFP overall titles. Recently in December he repeated as the Dew Tour Freeski Slopestyle champion, and just last week he took the top spot in Pipe at the Mammoth Mountain Visa Grand Prix/World Cup.
A well-rounded skier who shreds everything, Kenworthy is the only skier who is competing this weekend in both slopestyle and pipe events. Look out for more action from him on Sunday when Men's Ski Slopestyle gets underway.
Monster Energy returns as the official energy drink partner of X Games. Check out monsterenergy.com and Monster Energy Facebook now and throughout X Games Aspen 2016 for exclusive photos, videos, and contest results as they happen. Search #UnleashedAtX on Instagram and Twitter for exclusive behind-the-scenes looks in Aspen.
For interview or photo requests contact Kim Dresser.
---