Back to News
B$Z: Arenacross Most Intense Interview of the Week: Jacob Hayes Returns to His Hometown
February 1, 2016
After back-to-back runner-up finishes in the final AMSOIL Arenacross championship standings, Team Babbitt's/Monster Energy/AMSOIL Kawasaki's Jacob Hayes entered the 2016 season with just one goal - to win that elusive first career title. Given how close he was to winning the championship a year ago, and how dramatically it ended, his quest to win the title this season has been somewhat magnified. Thus far he's gotten off to a strong start, entering his hometown race On Saturday night in Greensboro, North Carolina, five points out of the championship lead with one overall win and a series-leading four Main Event wins.
Two years ago, the Greensboro Coliseum is where Hayes emerged as one of the championship's perennial front-runners, capturing the first overall win of his career. Since then, he's consistently finished on the podium and garnered more wins, while improving as a racer and maturing into one of the most formidable riders in AMSOIL Arenacross. The return to Greensboro this season is an anticipated one, presenting a similar opportunity to 2014 in which he can use it as a launching pad to a title run.
AMSOIL Arenacross caught up with Hayes to see how he's feeling heading into his home race.
Hayes is looking for his first career title in 2016. Photo: ShiftOne Photography
Jacob, we're three rounds into the 2016 AMSOIL Arenacross season and you sit second in the championship with one overall win and a season-best four Main Events win. How do you feel about your start?
In my opinion everything has gone according to plan. I'd like to have more overall wins, but I'll take it as the season comes. The first round [in Cincinnati] was very good for me. Last year I was on the ground a couple times, but I came out of there safe with a second, going 5-1 [in the Main Events]. In Baltimore I had a couple rough get offs on Friday night. It just wasn't the best night for me, but it's arenacross, you have to take the good with the bad. The next night I ended up winning both Main Events and had a really good night. We went to [Allentown] Pennsylvania [last weekend] and I wouldn't say I rode outstanding, but just rode solid. Me and Chris [Blose] had a really good battle in the second Main Event and I ended up taking the win. So the season has been going good so far. It's my hometown race this weekend and I'm really excited to be back [in Greensboro]. It was a lot of fun [last time in 2014] to be in front of the hometown crowd and just have all the support from family and friends. Being able to sleep in my own bed...It's just nice to be able to have a hometown race.
Talk about what it means to race in Greensboro. The last time AMSOIL Arenacross was at the Greensboro Coliseum you were able to earn your first career overall win at your home race. How does that add to your confidence coming into this weekend?
I had picked up a Main Event before that, but that was my first overall win. It was awesome to be able to do that in front of everyone. It was a huge boost and confidence builder for me. I wouldn't say that there's any pressure, but you just kind of put it on yourself being in front of the hometown crowd. This year it's just exciting to be back. I've had a good week of riding and training. I'm really looking forward to getting out there and having fun. I've been having a lot of fun on my motorcycle this year. The Team Babbitt's/Monster Energy/AMSOIL Kawasaki has been working really well. The suspension is good and the motors are really good this year. The team has been doing wonderful. We've been clicking off a lot of wins between me, Chris Blose and Gavin Faith. We've been on a roll and we just want to keep going with it, especially for myself. I'm getting stronger and stronger every weekend. It's a long season so I'm just slowly working my way into it.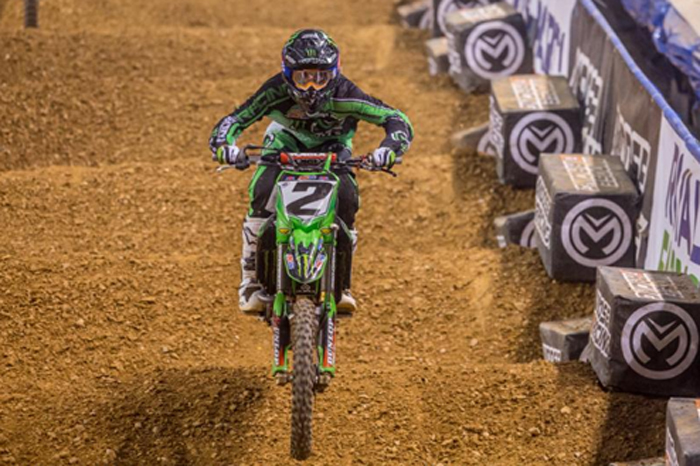 Hayes has had lazer focus through the first three rounds. Photo: ShiftOne Photography
You've had some interesting races already this season in the Main Events. You've been fast and up front, but there have been moments where you've had misfortune and have rebounded to either win of finish up front. Is the competition this year that much more intense? Is it that much harder to be consistent this season?
The AMSOIL Arenacross name speaks for itself. It's motocross, more intense. It's a tough series. I've learned each year that anything can go wrong or anything can go your way. It just depends on how you deal with things. Each race is its own race. I guess my starts haven't been as on key as I've wanted them to be, so that's left me kind of in the mid-pack range. I've had a couple bad starts and the field is deep. It's hard to work through those guys, especially when the lap times are anywhere from 20-25 seconds and everyone is within a tenth of a second. It's not like your gaining hugely on someone, so it's been tough to work through the crowd. I really need to focus on my starts. I've been working on those during the week and feel like they're getting better. I'm really focused on that this weekend. I think that' what it's going to take. Starts are key [this weekend] and they are every weekend, but that's the key to run up front. I think if you can go back and look at any of the [results] this season, the guys that start up front, that's most of the time where they finish unless they have misfortune. We're all good. We're all good riders and it just comes down to that start.
Has the success of your teammates emphasized your need to get a good start? Does it make you feel like you really need to be up front each weekend?
I wouldn't say so for me, not at all. I enjoy racing with Chris and Gavin has been doing really well. It's cool to get out there [and race with them]. Me and Chris race really well together and we've had some god battles out there on the track, so its nice to have teammates like that where you can come off, shake hands and enjoy the racing. That's what it's all about. We're not out there trying to kill each other, we're just on the same team and going for the same goal. We've all been doing that lately. We've all been clicking off [Main Event wins] and overalls, and I just think it's upping each one of our programs. Each one of us wants to push harder and harder to get the overall, so for me it's just about going out there to do my job and where I end up on the night is what I have to accept and move on, learning what I need to do better for next weekend.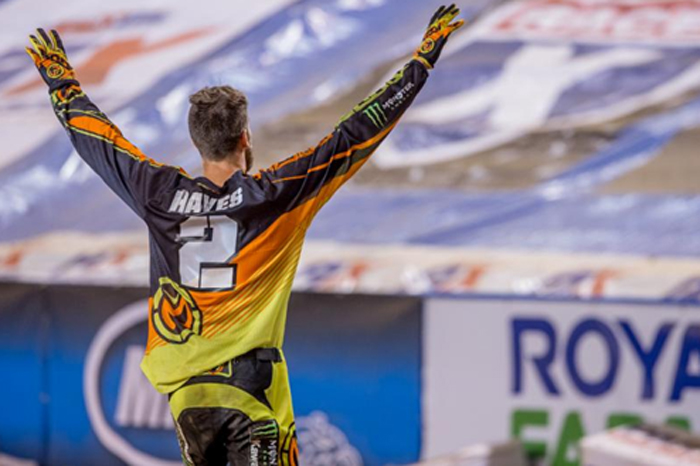 Hayes has one overall win and four Main Event wins through four races. Photo: ShiftOne Photography
Where do you think you need to go next to possibly get the points lead? Where are you at in terms of where you want to be when we eventually get to the Race to the Championship?
So far everything is going good right now. I've had a plan coming into the season. The only night that I can say hasn't really gone the way that I wanted it to is Friday night in Baltimore. I had a really bad crash in the first Main Event and got 16th, but I rebounded the second one, which was good. Other than that the momentum has been good. I just want to keep carrying it. Hopefully I can get a lot of momentum this weekend in my hometown and just carry that throughout the season. Just starts are where I need to clean up a little bit. It's been a little sloppy, some good ones and some bad ones. I think that's why my misfortune in Main Events have put me fifth or sixth. Not on the box where I need to be. I think if I can clean that up then the wins and overall will start coming.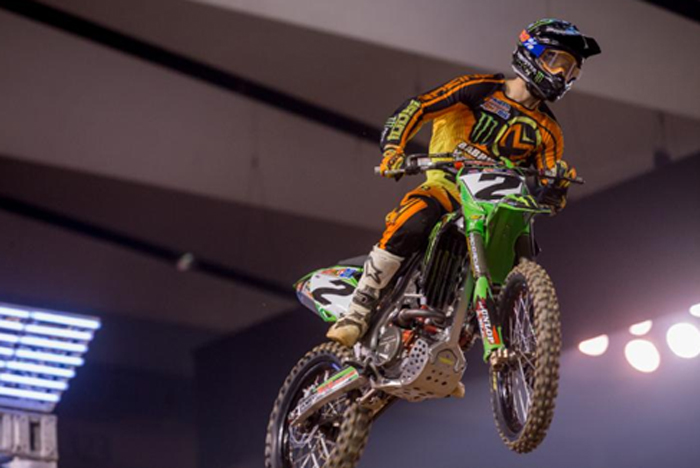 Hayes is second in the championship standings, five points out of the lead. Photo: ShiftOne Photography
Never miss out on the latest news! For more information on AMSOIL Arenacross, please log on to www.Arenacross.com. To follow AMSOIL Arenacross on Facebook, Twitter and Instagram, long on to www.facebook/com/AMAarenacross, www.twitter.com/Arenacross and www.instagram.com/Arenacross. Subscribe to our YouTube Channel at www.youtube.com/ArenacrossLive.
---