BACK TO NEWS
EVENT: Winners Announced from TRANSWORLD SNOWBOARDING's 17th Annual Riders' Poll Awards
The legendary Peter Line and Eddie Wall played host to the biggest night in snowboarding on Friday as over 1,100 pro snowboarders and industry members packed the Ogden Theatre in Denver, Colorado to see the world's best riders honored for their accomplishments. With an epic start to winter this year, the energy was epically high as winners took the stage to receive their awards.

Watch the winners' acceptance speeches at TWSNOW.com/RidersPoll now.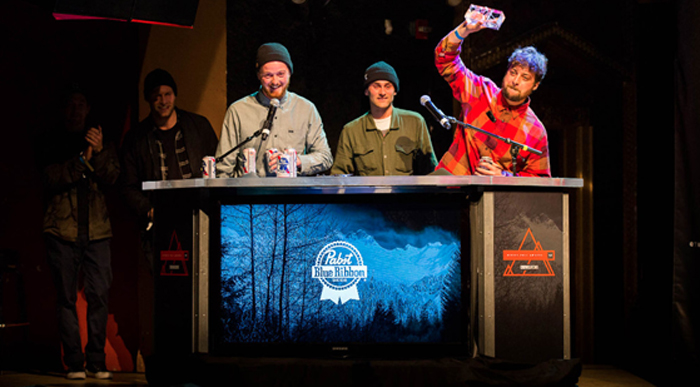 The Yawgoons stoked to accept the Online Video Series Of The Year award. Photo: Chris Wellhausen
For 17 years, TRANSWORLD SNOWBOARDING has polled the professional snowboarding community to find their picks for the best riders of the year. Each season, these awards are decided by the opinions of over 100 pros. While TRANSWORLD SNOWBOARDING hosts the awards, the winners are truly a reflection of peer acknowledgement—the highest honor any rider can receive.

This year veterans like Arthur Longo, Chris Grenier, Eero Niemela, Scott Blum, Kimmy Fasani, and Pat Moore all voted alongside up-and-comers including Jake Kuzyk, Blake Paul, and Ozzy Henning to determine which of their fellow riders would receive the most prestigious awards in snowboarding.

Women's Rookie Of The Year
Hailey Langland

Men's Rookie Of The Year
Cole Navin

Women's Video Part Of The Year
Desiree Melancon, Methods Of Prediction

Men's Video Part Of The Year
Louif Paradis, Encore

Online Video Series Of The Year
Yawgoons

Video Of The Year
Eversince, Absinthe

Standout Performance Of The Year
Dylan Gamache – Carving Progression

Women's Readers' Choice
Mary Rand

Men's Readers' Choice
Scott Stevens

Women's Rider Of The Year
Jamie Anderson

Men's Rider Of The Year
Mark McMorris

For those who weren't at the big show, follow us on Instagram and Twitter @TWSNOW and catch videos of the winners at TWSNOW.com/riderspoll.

The Riders' Poll Awards are sponsored by Under Armour, Protect Our Winters, and Pabst Blue Ribbon.
---