BACK TO NEWS
B$Z: Jossi Wells and Gus Kenworthy Take Gold and Silver Respectively in Men's Ski Slopestyle
Monster Energy is proud to congratulate Jossi Wells on his gold-medal win in men's Ski Slopestyle at X Games Aspen 2016. Wells' teammate Gus Kenworthy took silver in men's Ski Slopestyle marking his second silver medal this X Games, with his first-ever X Games medal in men's Ski SuperPipe on Thursday.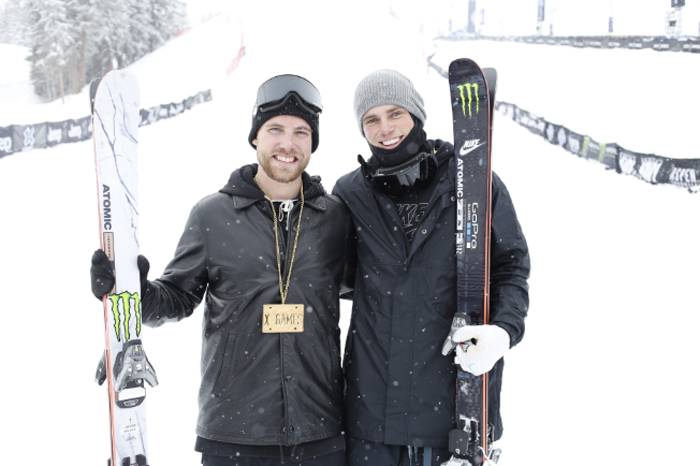 In his 10 years of X Games competition, Wells, of New Zealand, has stood on the podium four times in multiple disciplines, but never the top spot. Today that changed. Leading the pack throughout most of the event, he captured the winning score of 90.00 in his final run, during which he stomped a challenging, "switch double 1440 safety."
"I am so amped," said Wells, "I've been trying for 10 years to get this bad boy. Growing up, my dream was to get an X Games medal. I've got some silver and bronze, but never that elusive gold."
On Sunday morning, 12 of the world's best male slopestyle freeskiers threw down their best tricks on rails and three massive jumps at Buttermilk. Each athlete gets three runs to showcase their best, and top scores determine the podium finishers. Challenged by falling snow, which slowed down the course, and low light, the athletes really had to push themselves to get stay focused and keep their speed up.
"It was tough conditions and it was snowing," said silver medalist Kenworthy, "It was a little bit slow and super flat light, but the Snow Park Technology guys did a great job making the course run. It was king of soft, which was nice, since I've been nursing a heel injury."
Despite the challenges, Kenworthy, of Telluride, Colorado, the only X Games ski athlete to compete in both SuperPipe and Slopestyle was able to walk away with two silver medals. On the heels of his first-ever X Games podium on Thursday night's SuperPipe event, Kenworthy captured the second-place spot with technical rail tricks and a stylish "switch leftside double rodeo 1080 Japan."
"It feels so amazing. This is my fifth year competing in slopestyle at the X Games," said Kenworthy. "Every year that I have competed, I have felt like I had a run that could land me on the podium, but I have struggled to put it down, whether I've fallen or made mistakes. My third run today was as clean as I could have done it, and to get on the podium and to get another silver medal feels so good."
For more visit http://www.monsterenergy.com and Monster Energy Facebook to score all the exclusive updates from X Games Aspen 2016 including photos, videos, and contest results as they happen. Follow us on Instagram and Twitter and search #UnleashedAtX for exclusive behind-the-scenes looks in Aspen.
For interview or photo requests contact Kim Dresser.
---