BACK TO NEWS
B$Z: Monster Energy's Lindsey Jacobellis Earns Gold in Women's Snowboarder X At X Games Aspen 2016
Monster Energy congratulates Lindsey Jacobellis on winning her 10th gold medal today in Women's Snowboarder X at X Games Aspen 2016.
Atop a blanket of fresh snow, Jacobelis battled through adverse conditions to race away with yet another gold medal in Women's Snowboarder X at X Games Aspen 2016.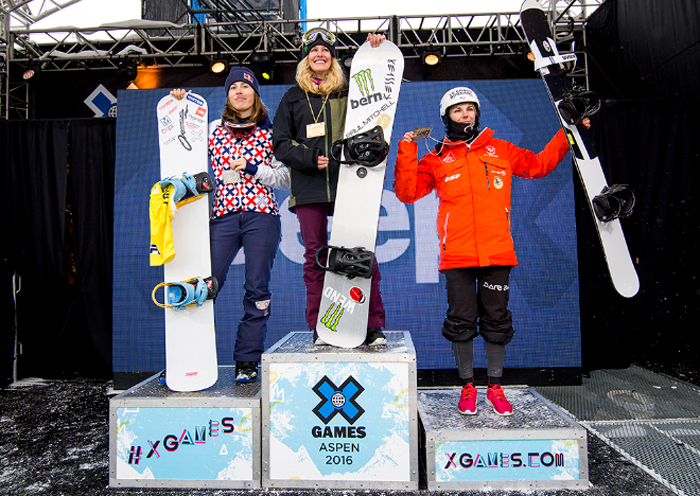 With perhaps one of the biggest storms Aspen has seen all season, 12-14 inches fell over night covering the slopes of Buttermilk Mountain with a glorious layer of fresh powder. The fresh powder provided epic conditions for everyone else on the mountain, but for boardercross athletes it can pose a challenge.
"It's fun when you are free riding, but kind of hard when you are racing," said Jacobellis.
Jacobellis is one of snowboarding's most established professionals and amongst her almost supernatural propensity for speed is an equally impressive penchant for strategy. Despite losing the hole shot, Jacobellis played it safe through much of the race pumping rollers and subtly gaining position against the fellow competitors as she hovered around third place for much of the race.
"This week the conditions changed so much," she explained. "So it was very different today."
Yet, when the final and most drastic corner approached she immediately cranked into a toe edge turn that catapulted her into the lead for the last part of the course. From there, keeping flat on her base and ultimately launching the final jump clean she crossed the finish line first in a photo finish.
Jacobellis, who has dominated women's Snowboard X for over a decade has now won twelve X Games medals including an astonishing 10 gold, seven of them in a row.
Explaining such a long history of victories she explains, "Every time I win it feels better because the level of competition is only getting better."
For more visit http://www.monsterenergy.com and Monster Energy Facebook to score all the exclusive updates from X Games Aspen 2016 including photos, videos, and contest results as they happen. Follow us on Instagram and Twitter and search #UnleashedAtX for exclusive behind-the-scenes looks in Aspen.
For interview or photo requests contact Kim Dresser.
---