BACK TO NEWS
GRACEDBYGRIT - Interview with Kate Nowlan and Kimberly Caccavo
GRACEDBYGRIT stands for exactly what it sounds like – women finding their strides through tough choices. Being faced with challenges and recognizing the need for flattering, high quality work out clothes for women was the inspiration behind GRACEDBYGRIT. In order to make this dream a reality, Kate Nowlan and Kimberly Caccavo joined forces, each bringing their complementary backgrounds to the table.
We took the opportunity to catch up with these two fierce females to learn more about the process of starting the brand, the team behind it, and what makes GRACEDBYGRIT so unique.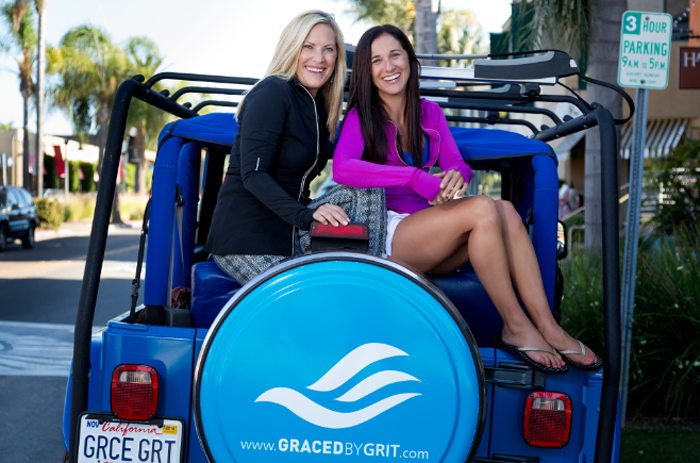 What fueled the creation of GRACEDBYGRIT and what was the process like from concept to launch?
Kimberly hired Kate as her trainer for a triathlon. The idea for GRACEDBYGRIT was conceived during a run (when Kimberly was trying to distract Kate from sprinting…). We were talking about the lack of choice in high-performance, flattering workout gear, especially for running and water sports. We realized that with our combination of athletic expertise and business and technology experience, we made a powerful team. So, we designed clothing that was elegant and timeless and could be used on land and in the sea. We sourced the most luxurious fabrics from Italy and perfected the fit so we looked strong and chic.
Next, we had to come up with a name. We realized that we had each experienced a major life event that forced us to make a tough decision. Every woman has a gritty moment that could make or break her and how she gets through those moments defines her; grit gives her grace. We had a name; GRACEDBYGRIT! We spent quite a bit of time on the logo. We wanted a trail, a wave, a mountain... grace and grit wrapped into one visual. The seabird was the perfect choice: seabirds live on land and in the sea; they are graceful and they have grittily adapted to their environment.
Next came the testing of the product. We had one team run a half marathon and another paddle board in the four core pieces of our collection. Based on their feedback, we tweaked the designs of our shorts, tops and knickers. We built the GRACEDBYGRIT website so that it would be compatible with cellphones, ipads and computers and designed tents and tables for event and pop-up shops. We wrapped an old jeep and teardrop trailer so we had a strong presence at events.
We launched the business at Camp Pendleton at a Water Warrior stand-up paddle event, beach run and obstacle course. It was a defining moment when we drove the trailer onto the white sand at 5 am, set up the tents and tables and placed our first product out for sale.
We have continued to listen to our customers. We produced our first run of product in India and China. Our customers wanted clothes made in the USA. We moved it back to San Diego; all GRACEDBYGRIT apparel is now made in the USA. We have tweaked and perfected the fit of the clothes based on feedback. We added XXS and XXL because female athletes come in all sizes.
What has been the biggest lesson you've learned about entrepreneurship during the process?
Trust your gut.
How did you use each of your unique backgrounds to successfully come together and launch the brand?
Kimberly studied Chemical Engineering and has an MBA. Kimberly's background in technology helped us find our fabric. When we launched GRACEDBYGRIT, we knew we had to compete on quality and performance. We tested for the most technical fabric that would feel amazing on a woman's skin and look great. The colors had to be bright and the fabric had to withstand the gritty workouts our customers were going to do. Our policies and procedures are streamlined and automated. We all work together on shared documents that reside in the cloud. Our accounting and manufacturing processes are tied together so we accurately reflect or COGS. We constantly perfect and refine these processes. The 30 years of business experience have served GRACEDBYGRIT well.
When we created our first GRACEDBYGRIT samples, Kate tested them surfing, running, mountain biking and in yoga to make sure they passed the test of performance in fabric, construction and fit. Kate is an athlete. She understands what women want to wear and should wear in order to perform and look their best. Kate's background as a coach allows her to lead a team of powerful women to reach aggressive goals. Kate is an entrepreneur. She transferred her knowledge from the organizational business she started to GRACEDBYGRIT. We are constantly improving our efficiency and organization.
What we both bring to the table is grit. We are both tough, hardworking and driven. We will do what it takes to make GRACEDBYGRIT the go to product for the self-reliant athlete that values hard work and its rewards.And, the woman who wants to look hot while working out.
What is the main goal of GRACEDBYGRIT?
To create top quality, luxurious apparel that women make look and feel their best so they're empowered to get out there and sweat their story!
How have you been able to keep the brand women-centric? What is unique about the people behind the brand?
We attract women that relate to the brand and the gritty women that work here. GRACEDBYGRIT's iinternal team has grown organically. Everyone in-house is positive, supportive, open-minded, smart, driven and passionate about how their piece of the puzzle contributes to our kick-ass team of women as a whole. We have women that are moms and work a few days a week in the store, moms who work full time, women who are starting their first jobs straight out of college with us, women that are building an incredible career and launching it with us, and even women that claim they don't want to work but just can't stay away!
How do you differentiate GRACEDBYGRIT from other women's activewear brands?
First, The quality of our product is premium. Not only will it perform for years to come and stand up to years of machine washes, but the designs will never go out of style. Each piece is timeless and elegant. Second, our apparel is built with safety in mind. Every item comes with a whistle, is UPF 50+ and has internal, hidden, pockets to carry your phone, credit card or lipgloss.
Why do you include a detachable whistle with all of your apparel?
As we previously mentioned, Kimberly and Kate connected when Kimberly was training for a triathlon on a team called Tri'n for Chelsea. Five years ago, 17-year-old Chelsea King was murdered in a brutal act of violence while on a run. Chelsea had always wanted to complete a triathlon but when her life was cut short and she was not able to fulfill that dream. A friend of the King family asked all of her friends to participate on the Tri'n for Chelsea team in Chelsea's honor.
At one of the Tri'n for Chelsea team meetings, Kelly King, Chelsea's mother, mentioned that if Chelsea had her phone or a whistle—something to attract attention—the tragedy of her death may have been prevented. Kimberly and Kate took this into consideration while training for the triathlon and developing the first of GRACEDBYGRIT apparel, deciding to include a detachable whistle with each piece. They want women to feel empowered and to always feel safe while working out, whether running a trail or getting on a stand-up paddleboard. The GRACEDBYGRIT safety whistle has a flat, discreet design that can be securely looped inside the back pocket of their capris or leggings, on their jacket sleeve, or around the back of their neck in tanks with the reflective elastic lanyard.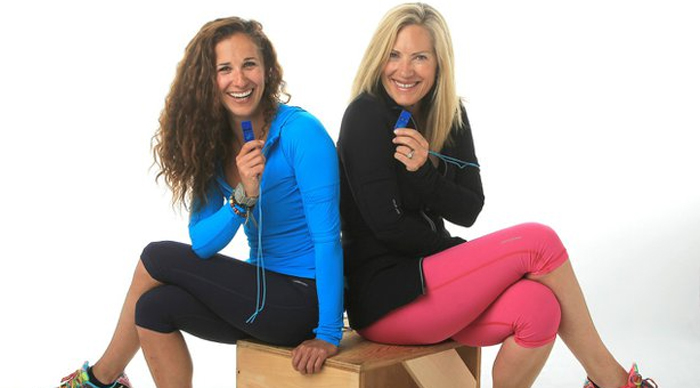 How can women become a GRACEDBYGRIT Influencer? What does the Influencer Program entail?
Women of all ages who wear and love the brand can become an Influencer. We look for physically active females who have an inherent ability to lead, coach, inspire and make positive noise within their respective communities. You don't have to be a superstar athlete but all of our influencers have experienced a gritty moment (or several) that has profoundly impacted who they are and where they are in life.
Where can women purchase GRACED?BY?GRIT?
Our flagship store in Solana Beach, CA

Fit Shops Nationwide

Specialty Retailers
---