Back to News
B$Z:AMSOIL Arenacross Most Intense Interview of the Week: Chase Sexton Begins His Road to Supercross
February 5, 2016
Less than a week after Austin Forkner showed he's one of the sport's brightest young stars by earning his first AMSOIL Arenacross victory, another young and talented competitor is set to begin Ricky Carmichael's Road to Supercross tonight in Colorado Springs, Colorado. GEICO Honda's Chase Sexton finished right behind Forkner in the Amateur All-Stars class at last October's Monster Energy Cup in Las Vegas, and now he will begin his professional career at the three-night showcase inside Broadmoor World Arena.
The Monster Energy Cup signified Sexton's first race with the highly successful GEICO Honda team that has already produced Road to Supercross graduates RJ Hampshire and Jordon Smith. Sexton has taken full advantage of that and is even living with Hampshire in California. He will also rely on his experience racing indoors as a kid in Illinois and the mentoring of AMSOIL Arenacross legend Robbie Reynard to make his presence felt in AMSOIL Arenacross.
AMSOIL Arenacross caught up with Sexton to get his thoughts heading into this weekend's triple header.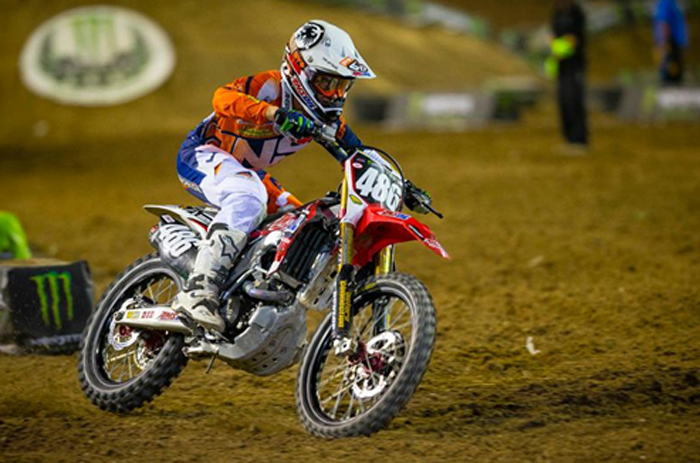 Sexton will make his AMSOIL Arenacross debut tonight. Photo Courtesy HoppenWorld
Chase, you'll make your AMSOIL Arenacross debut tonight. How are you feeling heading into the first of three nights in Colorado Springs?
I'm feeling really, really good. I've been riding [on a] supercross [track] for the past month or so and I'm really feeling good on the bike. The whole GEICO Honda team has been awesome and my bike is handling really well. I got to see the track [at Broadmoor World Arena] last night so I'm pumped on that. I'm just excited to make my pro debut.
You mentioned that you've been riding on a supercross track, but what else have you been doing to prepare for the Road to Supercross and AMSOIL Arenacross?
I'm just trying to get the whoops down. That's been my main focus. I feel like that's a big key to arenacross; definitely need to hit the whoops solid. That's what I've been focusing on and I feel like I'm ready for the weekend.
Growing up in Illinois you often raced indoors and you've also spent a lot of time with Robbie Reynard, who is an AMSOIL Arenacross legend. Do you feel like you're maybe more prepared for AMSOIL Arenacross because of that?
Yeah, for sure. Like you mentioned, where I grew up I raced a lot of stadium-type races and riding indoors. I actually grew up riding arenacross and I am excited to get back into it. Robbie has helped me a lot with my riding [in my career]. He's a great riding coach and all of that experience has me feeling good about everything.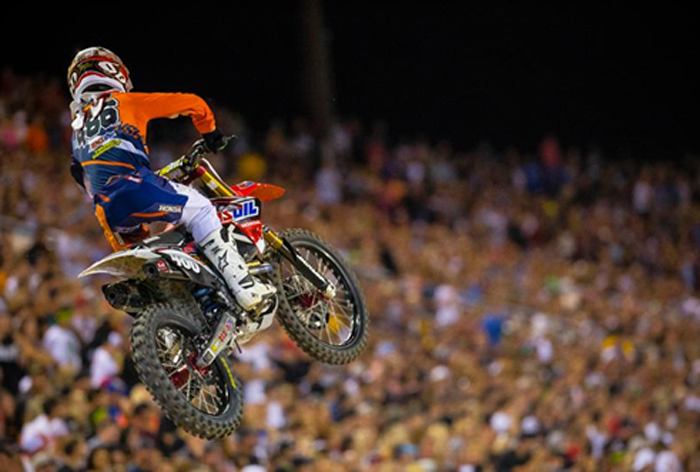 Sexton is ready for the big crowds after finishing runner-up in the Amateur All-Stars class at last October's Monster Energy Cup. Photo Courtesy HoppenWorld
Have you had the chance to learn anything from you GEICO Honda teammates RJ Hampshire and Jordon Smith, who have both competed in AMSOIL Arenacross during their Road to Supercross journey?
I live with RJ, actually. We have an apartment out in California. It's my trainer, him, and me so he's definitely been able to give me some advice about arenacross. I've also been riding with the whole GEICO Honda team - Christian Craig, Malcolm Stewart, Jordon and RJ. I've been able to get prepared for arenacross with them and they've been giving me a lot of advice, so I'm ready for it.
Do you think your experience at the Monster Energy Cup over the years - the big crowds, TV cameras and high energy - will help you adjust to the environment at AMSOIL Arenacross?
All of that is definitely a big part [of arenacross]. There's going to be a lot of people in the stands this weekend, but I think I'll be ready for it since I raced the Monster Energy Cup the last four years. I feel like I'm prepared [for the big stage] and I'm pumped to be a part of it, for sure.
What are you looking forward to the most in AMSOIL Arenacross and your Road to Supercross?
I'm really just looking forward to racing. I know a lot of people in arenacross just from growing up with them, so I'm pumped to be racing with them [again]. The whole [arenacross] community seems really cool, so I'm really excited about my Road to Supercross debut. I just couldn't be happier.
After seeing Austin Forkner's success last weekend, do you feel confident that you have the speed to compete with the stars of AMSOIL Arenacross? Are you looking to win? What are your goals?
Austin killed it last week and he definitely set the bar high. My whole goal in arenacross is to get through each night and gain experience during my Road to Supercross. Everyone else is racing for a championship, so I'm not trying to [necessarily] mess that up for anyone. Obviously I want to win, and that's my goal, but I really just want to get in there and compete, and still allow those guys race for the championship.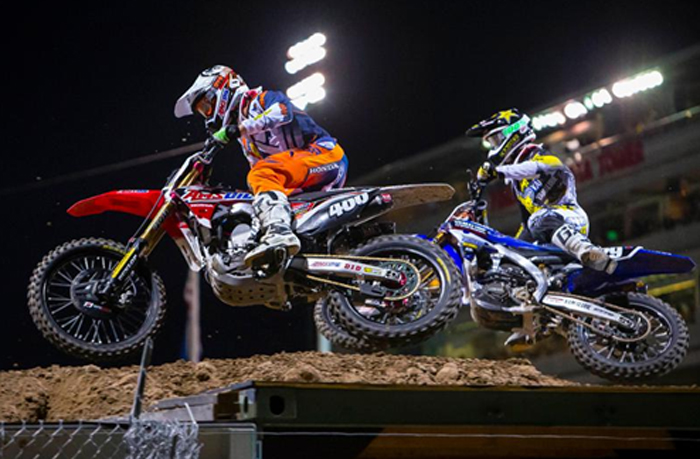 Sexton is ready to go bar-to-bar with the best of AMSOIL Arenacross, having grown up racing indoors in Illinois. Photo Courtesy HoppenWorld
The fifth round of the 2016 AMSOIL Arenacross season begins tonight from Colorado Springs' Broadmoor World Arena, starting at 9 p.m. ET / 6 p.m. PT. The action continues tomorrow and Saturday with the second and third nights of the first ever triple-header. The action on those nights also begins at 9 p.m. ET / 6 p.m. PT.
Never miss out on the latest news! For more information on AMSOIL Arenacross, please log on to www.Arenacross.com. To follow AMSOIL Arenacross on Facebook, Twitter and Instagram, long on to www.facebook/com/AMAarenacross, www.twitter.com/Arenacross and www.instagram.com/Arenacross. Subscribe to our YouTube Channel at www.youtube.com/ArenacrossLive.
---