Back to News
ProEditors Names Verde Brand Communications Agency of Record
February 18, 2016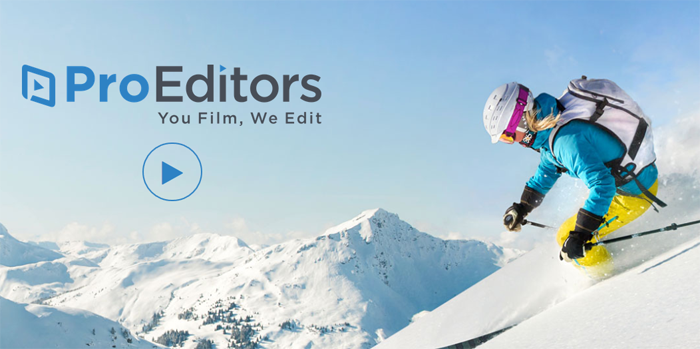 The GoPro generation is definitely here. We shoot hours and hours of footage with our phones and point-of-view cameras and so often, that footage stays right on our devices and cameras, never making it to final production in the form of a movie.

Patrick Latcham, founder of ProEditors.com, is committed to changing this paradigm. ProEditors.com formally launches today and Verde Brand Communications will serve as the company's agency of record effective immediately.

The idea for ProEditors was born during the 2013-14 ski season when Latcham and his girlfriend were editing GoPro footage for family and friends to make some extra cash.

"We definitely saw there was a huge need for point-of-view footage editing, we had a lot of requests just from our network," Latcham said. "But we found the editing process incredibly time consuming and chasing down footage and payment was equally challenging. So we decided to create a platform that would take the pain out of the process for our customers and for us."

ProEditors was born. Very soon after, Latcham realized the concept could easily be expanded beyond his personal network, making video editing quick and affordable for everyone. ProEditors was part of the 2015 Telluride Venture Accelerator start-up program and is headquartered in Telluride, Colorado.

The ProEditors video editing solution transforms raw point-of-view camera footage into professionally edited movies through a three-step process. Users upload raw footage, fill out a simple form to ensure favorite scenes are included and within 2-3 days, they will receive a professionally edited movie for an affordable price. ProEditors uses a hybrid production process that combines crowd sourcing of experienced video editors with automation of specific segments of the video editing process to deliver a low cost, high quality edit to consumers and to brands. The ProEditors video editing platform lowers the average editing time from four hours to just 20 minutes.

"ProEditors is a start-up idea that couldn't have been created fast enough," said Kristin Carpenter-Ogden, founder and CEO of Verde. "Like so many of us, I have hours of footage on my GoPro and my iPhone just sitting there. With ProEditors, I can actually get the movie made and shared with my friends and family, and I also know that many of our clients at Verde would value this service too.

The ProEditors platform will serve both individuals and businesses with affordable, professional video editing. We're super proud to be supporting Patrick and the team as they take ProEditors mainstream."

Verde will be supporting ProEditors with integrated communication services including content, social media strategy, public relations, ambassador and influencer relations and digital marketing. ProEditors' target markets include the outdoor, snowsports, bike, action sports, and active lifestyle markets. Verde will work to create visibility for the ProEditors solution among individuals and businesses.

To obtain a discount on your first professionally edited ProEditors video, please visit: ProEditors.com.

---