Back to News
First Ever Selfie Run by Wings for Life
February 18, 2016
In ground-breaking event to support spinal cord injury research, new 'Selfie Run' allows anyone/anywhere to run with the world in a race with no finish line

On May 8, the third annual Wings for Life World Run - the world's only synchronized global race - will no longer be limited to the official 34 locations around the world. Now, people everywhere are invited to join the world through the Wings for Life World Run – Selfie Run app.

Participants like reigning Ironman World Champion Daniela Ryf plan to create a Selfie Run wherever they are, attempt to stay ahead of a virtual Catcher Car, and race at exactly the same time as everyone else worldwide.

Produced by Red Bull, the Wings for Life World Run has pioneered the concept of a 'Catcher Car' format, a signature innovation in which a vehicle gives runners a head start and then pursues the field at a predetermined pace until the last man and woman are caught and declared Global Champions. Now that same feature is available through the Selfie Run. While the app is free to download, Selfie Run participants have the opportunity to donate money through the app, with 100% of all donations going toward finding a cure for spinal cord injury. Over the first two years of this ambitious global endeavor, a grand total of $8.8 million has been raised.

Because all participants will eventually be caught by the pursuing finish line (the Catcher Car), everyone from beginners to dedicated athletes to competitors in everyday wheelchairs are guaranteed to finish the race and make a difference.

Ryf, a pro triathlete, two-time Swiss Olympian and the 2015 women's Ironman World Champion, explains, "The great thing is that you are still part of the vast range of runners in the global event. The announcers on the worldwide livestream report on the Selfie Runners, your social followers are with you and the virtual Catcher Car feels so real. I think being a Selfie Runner is going to be incredibly fun and satisfying for runners out there because you'll not only prove to yourself what you can do, but you'll know the money you raise will make a difference. I'm really looking forward to it."

Selfie Runners can also use the Wings for Life World Run app – available for free on iOS and Android in the App Store (search: Selfie Run) – to train for the big day and share real-time results with supporters on May 8.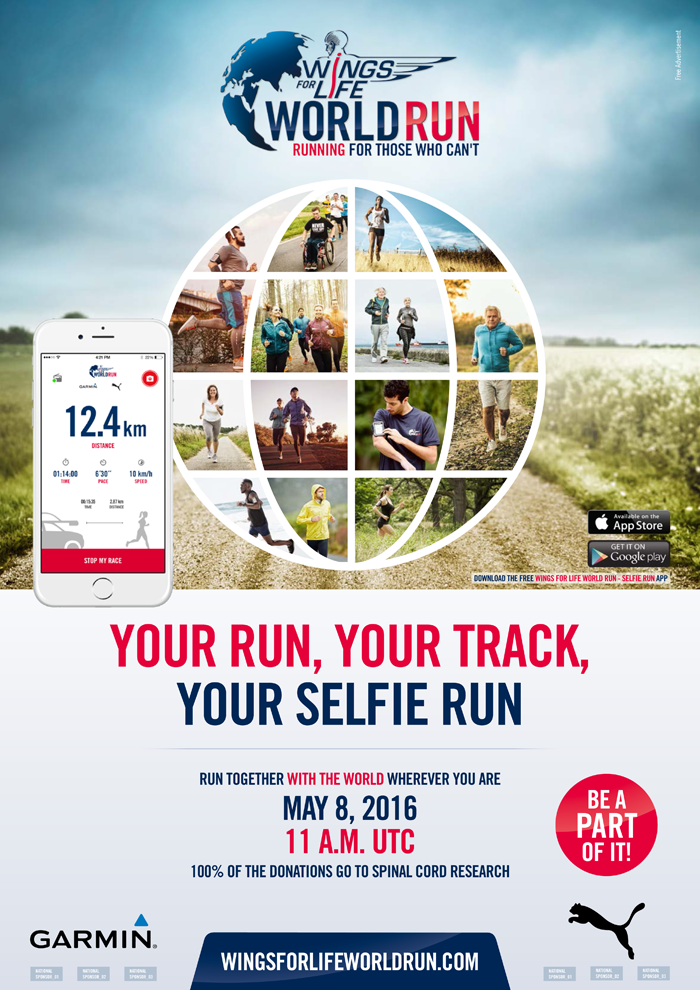 ---