Back to News
Idaho Science Teacher Named Snowboard Ambassador of the Year
March 3, 2016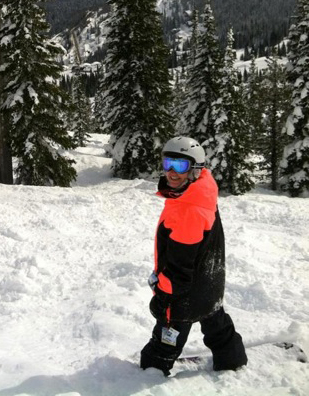 Cindy Rust, a science teacher at Post Falls High School, ID has been named the Snowboard Ambassador of the Year in the snow sports industry's Bring a Friend Challenge. She helped more than 20 students sign up for beginner lessons for either ski or snowboard. She won a complete hard goods and soft good ensemble from Burton Snowboards. Most of her students were involved in lesson programs at Schweitzer Mountain in Idaho.
The Bring a Friend Challenge encourages current and new skiers and snowboarders to help friends and family members sign up for beginner lessons from professional instructors. Rust also captured the top slot in the Challenge last year when only one Ambassador was chosen. This year, the Challenge is awarding two slots – one for snowboard and one for ski. The Ski Ambassador will be announced when the Challenge ends on March 13, 2016. Rust was named early because she already had influenced an unusually large number of beginners and organizers felt that she was far and away the best recruiter of newcomers.
Rust founded a ski and snowboard club at her high school that gives students a helping hand if they want to get involved in the sports, According to her, the Club "introduces a life-long activity promoting the 5 local mountains to all students, regardless of their socioeconomic status".
"Many students would never have the opportunity to go skiing due to the cost if it wasn't for the opportunities the club provides," said Rust. "It is an outlet for kids who are not otherwise involved in sports or clubs and is a stress reliever. It brings together a group of likeminded individuals and gives them a sense of belonging".
There is more to the club than going on 4 ski trips. Students are introduced to a variety of things leading up to, during & after each trip. Guest speakers are brought in to discuss injury prevention & conditioning.
Rust says that students are being introduced & exposed to people and businesses making connections for the future including topics that may interest them in a later career relating to Science, Weather, Video/Filmmaking, Instructing, and Special Olympics. Ideas presented can be incorporated into required Senior Projects. She says her students are becoming environmental stewards and have a vested interest in the local environment.
Post Fall's Club started six years ago with19 students and has grown to over 100 today. Currently over 200 students are involved between Post Falls and two other high schools in the overall community.
About Learn to Ski and Snowboard Month
Since its launch in 2009, Learn to Ski and Snowboard Month has introduced more than 600,000 children and adults to the joys of skiing and snowboarding. Find local deals and learn more at www.learntoskiandsnowboardmonth.org
---