BACK TO NEWS
Explore Coastal Carolina With Coastal Urge
Enjoy a break by zooming in on Coastal Urge, an Outdoor industry retail establishment from Bald Head Island, North Carolina. Bald Head Island is bordered by marshlands and the Cape Fear River on one side and the Atlantic Ocean on the other side, the island's 12,000 acres are filled with beaches, dunes, and maritime forests. It is a slice of paradise in coastal Carolina. Katie Elzer-Peters represents Coastal Urge in this interview.
(At the time of publishing, Coastal Urge is hiring a Director of Sales and Operations, Rental Operations Manager, and Assistant Retail Sales Manager - if you like what you see here, and are qualified for one of the open positions, Coastal Urge invites you to submit your profile.)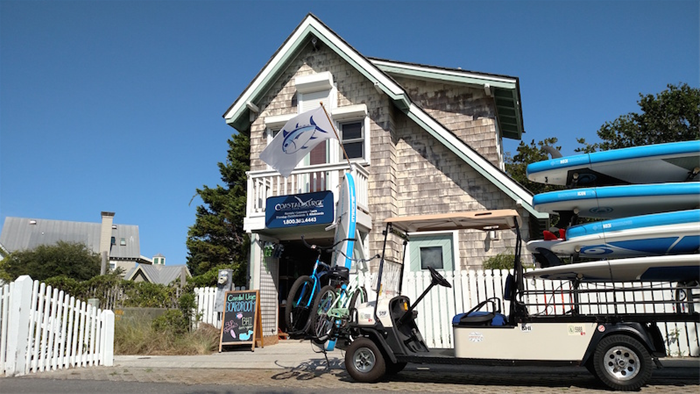 The Coastal Urge Boardroom and center of rental operations on Bald Head Island


What was the motivation behind the start of Coastal Urge and how has the importance of fostering a sense of community helped grow the brand?

Jeoffrey and Catherine Nathan started Coastal Urge when they couldn't find the types of clothes they wanted to wear in Wilmington, North Carolina. They found themselves constantly traveling to Charleston to find stylish, durable apparel to fit their outdoor lifestyle, so they did something about it! Coastal Urge's tagline is "Outfit Your Lifestyle," and it isn't just something they made up. It's something they live.


Over the years all of the team members have been involved in community events, from handing out promotional items at the concert series run by one of our local botanical gardens, to driving golf carts in the Bald Head Island July 4th Golf Cart Parade, to donating items for charity events. It's a top-down culture of giving.

How does the company promote the coastal lifestyle and how do the brands carried in the stores help?


We all live the coastal lifestyle daily and we share it with each other and our customers and visitors. Staff members enjoy standup paddling and cycling around Bald Head Island on their days off. BHI staff commute to work via the Bald Head Island Ferry (or live on the Island, in the case of the Rentals Operations Manager). There are several runners, surfers, and swimmers on staff as well. Luckily, we work at a place that helps us outfit our lifestyles so we're well prepared. (I could not resist throwing in the tagline.)

Every year Coastal Urge holds two paddleboard events: the Cold Stroke Classic in Wrightsville Beach, North Carolina and the Newport SUP Cup in Newport, Rhode Island. (Jeoffrey is originally from Rhode Island.) They are two of the longest-running paddle events on the East coast. We just held the 8th annual Cold Stroke Classic and are planning for the 7th annual Newport SUP Cup. The events draw around 150 paddlers each from the eastern seaboard. There are groups of paddlers who train all winter for the Cold Stroke. It's kind of a badge of honor to complete it because the conditions are usually pretty awful—bitterly cold, windy, and chilly water if you accidentally take a dip.

We're very lucky that our brands support these two races by donating prizes. Each race raises money for charity, so the more participants we have, due to great swag, the more we can give. It is unusual in the paddle world for every single racer at an event to get a prize, not to mention something like a Patagonia jacket or a pair of Olukai sandals or Kaenon sunglasses—regardless of where they finished. We've raised funds for children's cancer research, animal rescue organizations, Boys and Girls clubs, and more.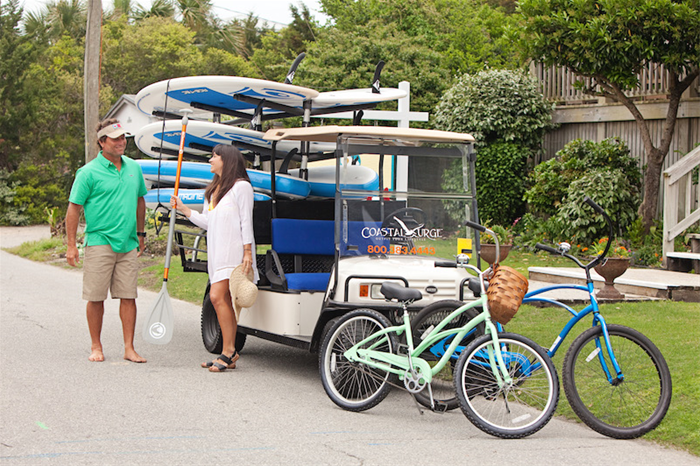 Coastal Urge team members provide red carpet door to door service, delivering beach cruisers and paddleboards around Bald Head Island.


How does this sense of community influence the company culture? How does Coastal Urge celebrate its people?

We have amazing team members who really make each day fun. We're always doing new things—taking our pop up shops on the road, working with local charities, planning new tours around Bald Head Island, hosting school groups, and more.
To keep everyone motivated, we have contests supported by our various brands, host cookouts and oyster roasts, and holiday events. It's a pretty tight-knit group.

Why do you love going to work each day?

I love the variety of projects that I get to work on. There is literally always something new happening.
Our Rental Operations Manager (and we're looking so people can apply now!) lives on Bald Head Island, and that is an absolute dream job. The Island is two miles off the coast of southeastern North Carolina. Bordered by marshlands and the Cape Fear River on one side and the Atlantic Ocean on the other side, the island's 12,000 acres are filled with beaches, dunes, and maritime forests. The nearest off-island town, reachable by pedestrian ferry is Southport, NC. There are no cars allowed on the island—only golf carts and bicycles. "Old Baldy," the state's oldest standing lighthouse, stands in the center of the island.
I asked one of the staff members what it was like to live and work out there. Dale Slear was the first Rentals Operations Manager, who helped set up the program. He said, "It's such a cool little spot. I love going out there and spending a weekend. Living out there was awesome. Not having to leave the island was such a treat. The sunrise and sunset are amazing shows every day and every night. It's nice being in town."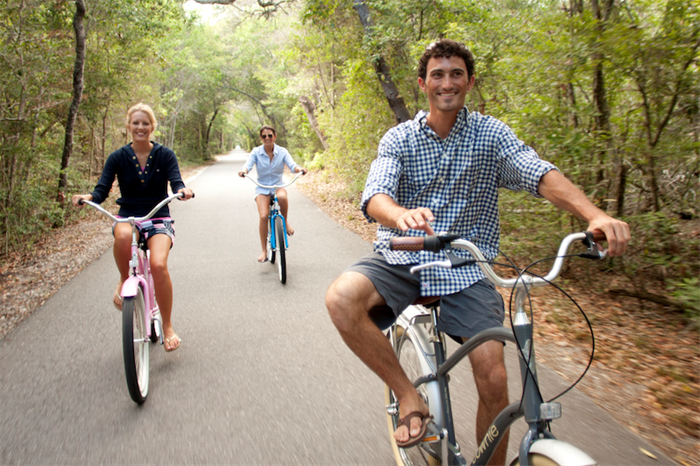 Bikes are the best way to explore the island, and the preferred transportation of Coastal Urge's team


How does Coastal Urge go beyond being just a retail store? Why is the Bald Head Island location perfect for this?

Dale also had this to say about working out on BHI and working for Coastal Urge (and I like his perspective), "The thing you need to know about working with Coastal Urge is that everyone in the company strives for perfection in everything they do. When you walk into the stores, the first thing you notice is that they are kept very clean and well-stocked. But everyone has a great time. When you're living on the island, though you're always on call. You represent the brand everywhere you go. One day you might be filling in for a paddleboard instructor, or might need to drop off rentals, or work the retail floor. Every day is a different experience." Staff members become part of the BHI community, just like the visitors. They get to know everyone on the Island. It's a pretty small place and functions like a little town.

Why is connecting with customers through channels such as social media important to Coastal Urge?

Our customers are just like us—they love to enjoy an active coastal lifestyle—and keeping up with them via Facebook and Instagram is a great way to connect and share our love of the outdoors.

What's next for Coastal Urge? Are there plans of expanding outside the Carolinas?

We have already expanded! We have two fully-functional mobile stores that have been to the Miami International Boat Show, Savannah Boat Show, Charleston Boat Show and more this year. Our day-to-day staff are the ones who took the show on the road and got to have a taste of living and retailing in other coastal cities for the weekend. Who knows where we'll go next?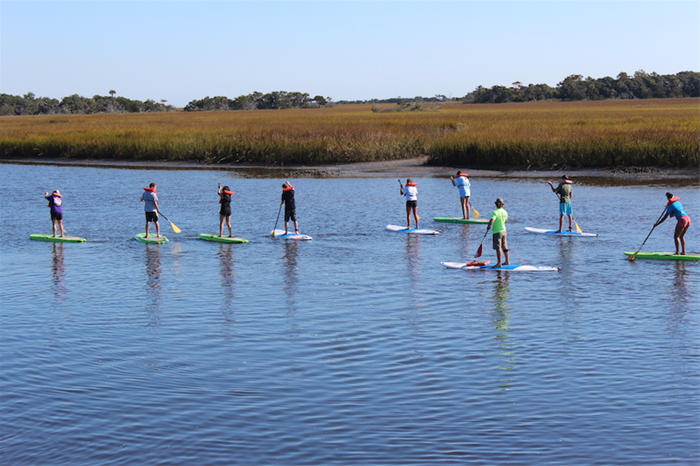 Guides take visitors for a tour of the marshes around Bald Head Island in North Carolina
---