Back to News
Learn to Ski and Snowboard Month Participation "Best Ever" Despite Weak Snow Year in the East
March 23, 2016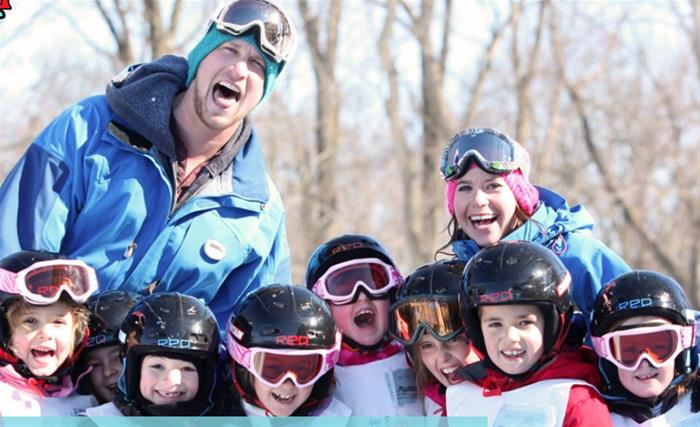 Despite this winter's challenging snow year in the East, participation in Learn to Ski and Snowboard Month (LSSM) programs topped 166,000, based on the 2016 version of the annual LSSM Survey for resorts. Last year, organizers reported 118,000 based on survey feedback. Resort associations throughout the U.S. started the Learn to Ski and Snowboard Month/Bring a Friend initiative in January 2009. Since then resort partners have provided nearly 770,000 beginner lessons taught during January by trained instructors.
The World's Largest Lesson attempt on Friday, January 8, 2016 attracted approximately 6,000 beginner skiers and snowboarders. Lessons took place at 10 a.m. in five different time zones on that date. It was positioned as the "unofficial kick-off" for the annual "Learn to" month.
"Events at host resorts generated an enormous amount of publicity," said LSSM Executive Director Mary Jo Tarallo. "That may have sparked interest for the rest of the month since January is now well established within the industry as Learn to Ski and Snowboard Month. The participation number probably would have been even higher if the East had experienced weather more conducive for good conditions."
The Learn to Ski and Snowboard/Bring a Friend initiative relies on grassroots and local efforts that encourage newcomers to take ski and snowboard lessons from professional instructors. Each resort approaches its offers individually or in collaboration with others. National organizers provide resources such as logos, graphics, slogans and PR support to communicate messages. The initiative is sported by a wide range of snow sports industry organizations and businesses including the National Ski Areas Association, SnowSports Industries America, the Professional Ski Instructors of America-American Association of Snowboard Instructors, the National Ski Patrol as well as rep associations, retailer organizations and private businesses all of which are listed at learntoskiandsnowboard.org.
The initiate also incorporates the learntoskiandsnowboard.org web site, public relations and a strong presence on social media platforms to increase public awareness among consumers about learning how to ski or snowboard.
"Our goal is to motivate newcomers to take lessons from professionals and to provide basic information that is useful and helpful to those who are just starting to learn," said Raelene Davis, Marketing VP at Ski Utah and chair of the initiative. "We want newcomers to have a positive first-time snow experience so they come back again and again – with friends and relatives."
Details about the Learn to Ski and Snowboard (Month)/Bring a Friend initiative are available at www.learntoskiandsnowboard.org



---