Back to News
IASC Announces Keynote Speaker and Guest Lineup for 2016 Skateboarding Summit; Registration Information Included
April 21, 2016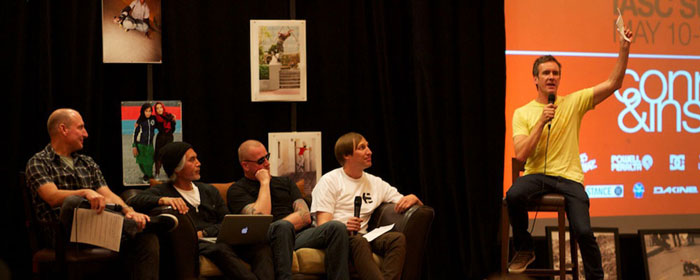 The International Association of Skateboard Companies (IASC) is proud to announce the keynote speaker and an exciting mix of business, marketing and skate programming professionals as part of its guest speaker lineup, for the 2016 IASC Skateboarding Summit, held at the Embassy Suites by Hilton in Anaheim, Calif. May 11 to 13.

New York Times bestselling author and entrepreneur Amy Jo Martin serves as this year's IASC keynote speaker. Her accolades include her bestseller, Renegades Write the Rules, and Digital Royalty, a company she founded in 2009 that helps corporations, celebrities and sports entities humanize their brands online through social communication channels. She grew the business across the globe, and after as a successful seven-year run as the founder and CEO of Digital Royalty, she recently exited the company. Prior to becoming an entrepreneur, Amy Jo began working for the NBA's Phoenix Suns during their 2005-2006 season. She quickly became recognized as a social media pioneer while trailblazing through this new unchartered territory. Amy Jo herself has a social media following of more than a 1.1 million people and was named the third most powerful woman on Twitter by Forbes. She now travels the world to speak about the latest trends on innovation, the future of social communication and women in business.

Her motto is, "Humans connect with humans, not logos." She will bring her social media, business and sports/celebrity insight to the table.

"Amy Jo Martin will make an excellent keynote speaker because she can hit on a number of topics that have come up again and again in the process of planning this year's Summit," said Thomas Barker, IASC's executive director. "From her work with celebrities that are brands themselves, to helping businesses translate their company culture and identity through social media, she will give our audience tools to make better decisions in their planning and execution."

Amy Jo Martin will join Summit attendees from 2 p.m. to 3p.m. on Friday, May 13, for her keynote speech and Q&A.

The 9th Annual IASC Summit will focus on the changes in distribution, consumers and communication going on inside and outside the skateboard industry. We hope to join together to collectively #pushforward through these changes as an industry.
For the past eight years, IASC has brought together industry leaders for the premier educational and networking event in skateboarding. Experts from the industry, as well as outside it, gather for a 3-day experience. The Summit gives business leaders, motivated employees and anyone interested in making the world a better place through skateboarding, the new perspectives, insights and knowledge they need to grow their companies, further their careers, engage skateboarders and promote skateboarding in a meaningful way.
This year IASC is proud to host the following guest speakers:
Thomas Barker, IASC Executive Director: Thomas Barker, IASC Executive Director, shares the results of the IASC/TWS State of Skate Industry Survey, takes a deep dive into U.S. participation numbers and more. He presents a look at where the industry is, and where it's heading.

Lunch and Nonprofit Inspirations: Each day enjoy lunch and connect with some of skateboarding's most inspiring nonprofits, which are making the world a better place through skateboarding.
Digital Expert Roundtables: Roundtable discussions with digital strategy experts examine case studies and explore best practices in the areas that matter most to the business today, including digital strategy, social media analytics, content monetization and more.
Skateboarding and the Tokyo 2020 Olympics: Skateboarding appears to be on track to debut at the 2020 Olympic Games in Tokyo. Gary Ream, president of the International Skateboarding Federation, will update the industry on the latest news and issues surrounding skateboarding's inclusion.
Supporting Retail in 2016: A panel discussion with a variety of retailers from around the U.S. will discuss how brands can work efficiently with shops in the new retail environment, best practices for brands and retailers to work together in the social media age, and follow up on the findings from the 2016 State of Skate Retailer Survey.

Closing Keynote Speaker: Amy Jo Martin – author of New York Times best-seller Renegades Write the Rules will host a Q&A and book signing after speaking.

2016 IASC Skateboarding Hall of Fame Induction Ceremony presented by Vans

The Skateboarding Hall of Fame and Icon Awards ceremony will be held at The City National Grove of Anaheim at 6 p.m. on May 13. The award ceremony honors the skateboarders, industry pioneers, and cultural icons who have left a permanent imprint on the history of skateboarding and culture. The 2016 inductees include: Skip Frye (1960s), Ty Page (1970s, Era One), Steve Alba (1970s, Era Two), Eddie Elguera (1980s, Era One), Tommy Guerrero (1980s, Era Two), Ed Templeton (1990s) and three women – Ellen Berryman (1970s), Cindy Whitehead (1980s) and Jen O'Brien (1990s). This year's Icon Awards will go to Mörizen "Mofo" Föche, Powell Peralta and Suicidal Tendencies.

Following the Summit, make sure to catch the Vans Pool Party Contest from 4 p.m. to 9:30 p.m. May 14 at Vans Skatepark, located just seven miles from Summit at 20 City Blvd W #2, Orange, CA 92868.

For information on registration for the 2016 IASC Summit, visit: http://bit.ly/IASCSummit

*All attendees of the 2016 IASC Skateboarding Summit will receive a complimentary General Admission ticket to the Skateboarding Hall of Fame event. If you would like VIP admission, please purchase your ticket through the event website below.

For tickets to the Skateboarding Hall of Fame, please visit: : https://2016-shof.eventbrite.com

For registration questions, please contact Jardine Hammond: [email protected]



---