BACK TO NEWS
Photo Break: World Surf League Big Wave Awards
World's Best Big Wave Surfers Honored at WSL Big Wave Awards
Dorian Cements Iconic Big Wave Status with Ride of the Year/Overall Performance Awards; Kennelly Makes History as First Female to Win in an Open-Gender Category; Gold Breaks World Record for Biggest Wave Paddled Into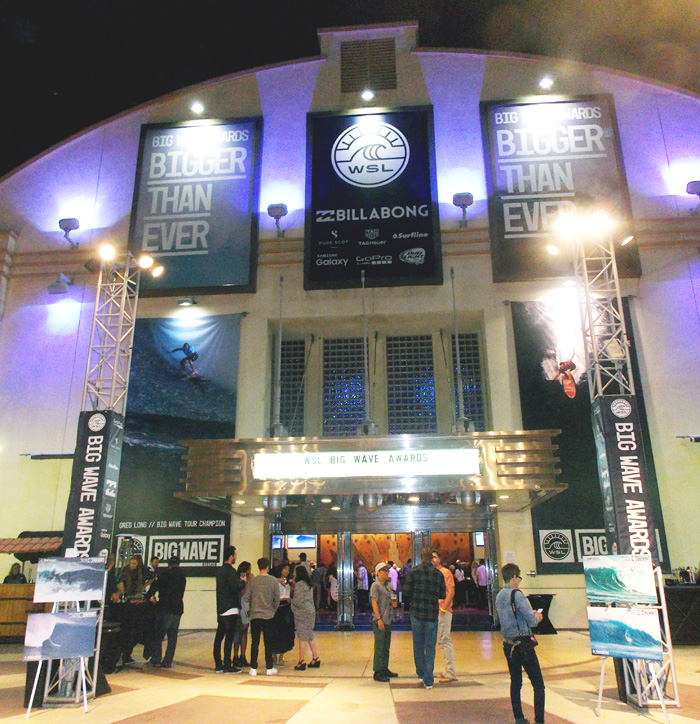 Red carpet style.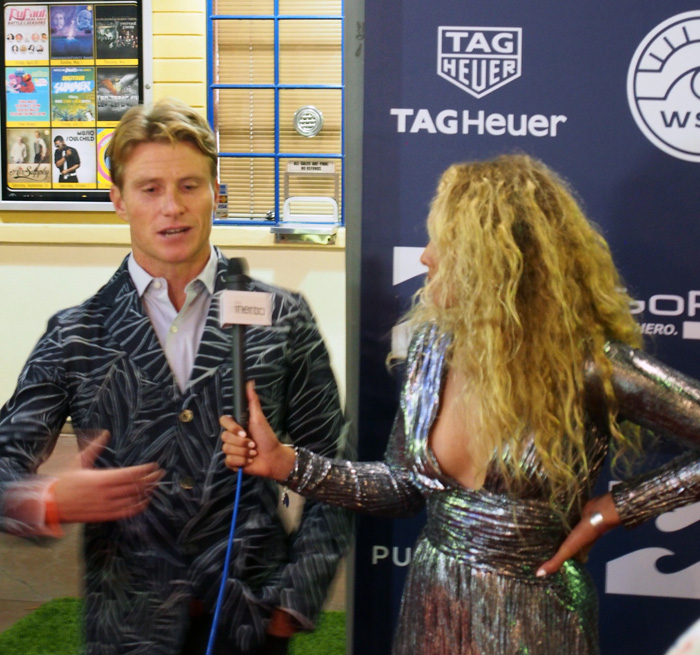 Mark Healey breaking it down.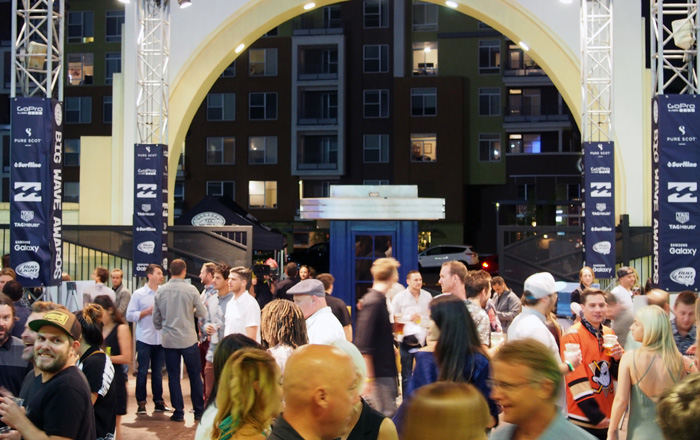 The crowd builds.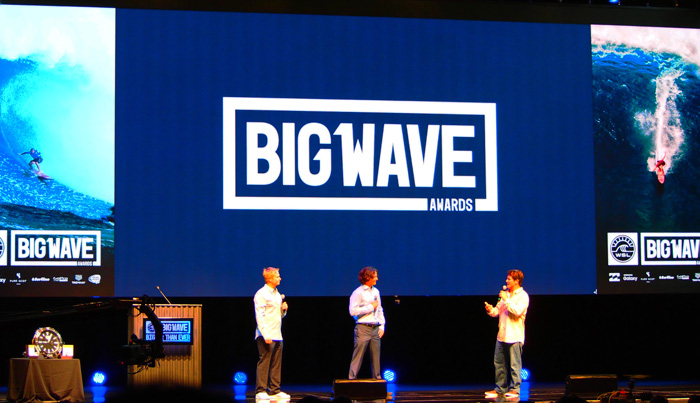 Event hosts and WCT commentators: Strider Wasilewski,
Joel Turpel,
and Peter Mel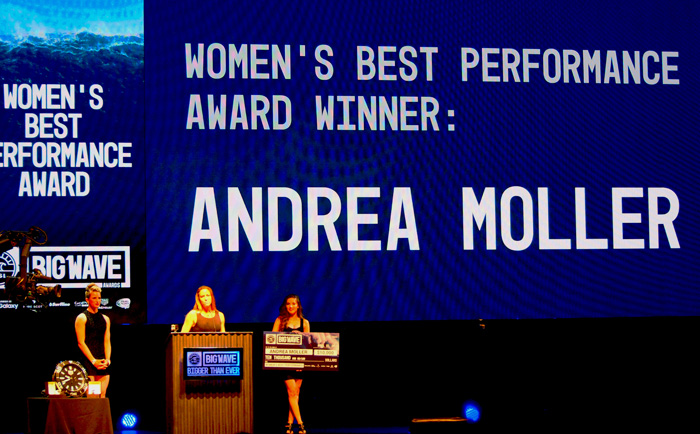 Andrea Moller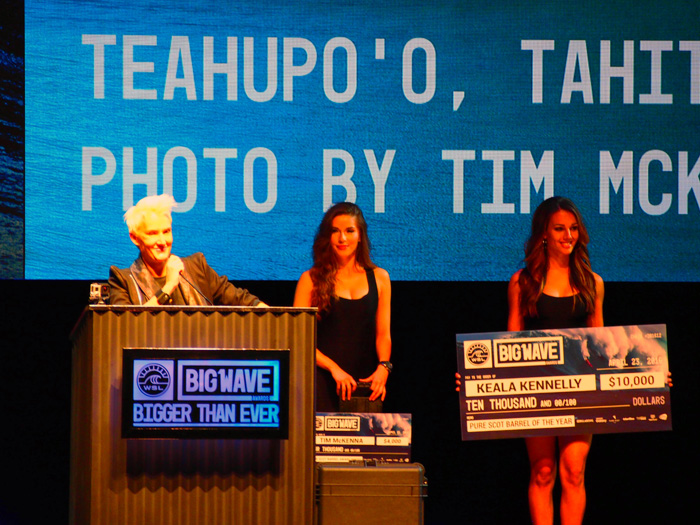 Keala Kennelly - Barrel of Year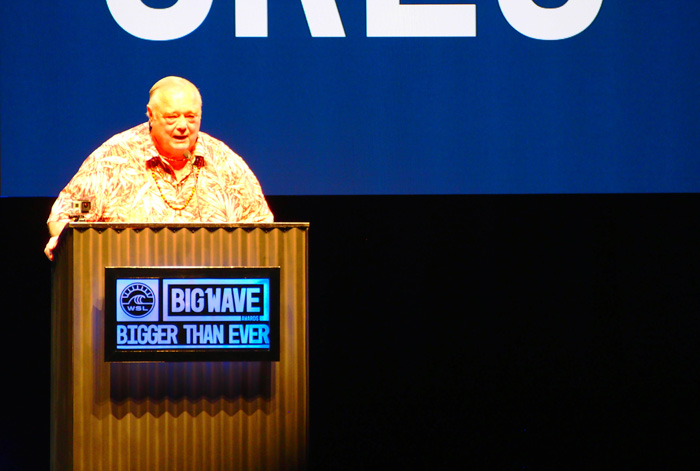 Mr. Greg Noll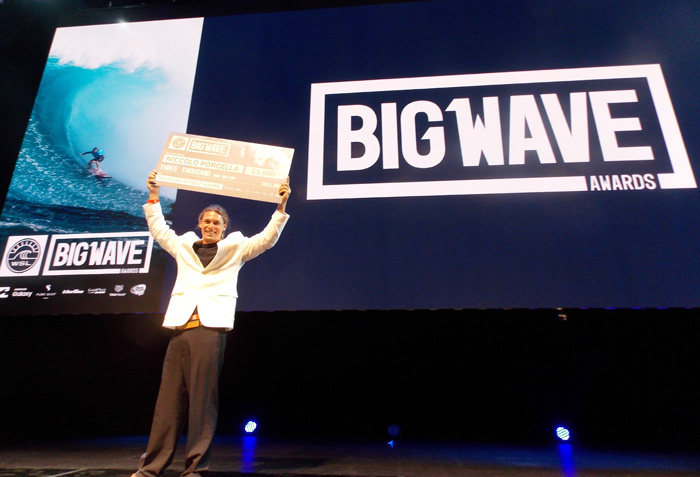 Niccolo Porcella - Wipe Out of the Year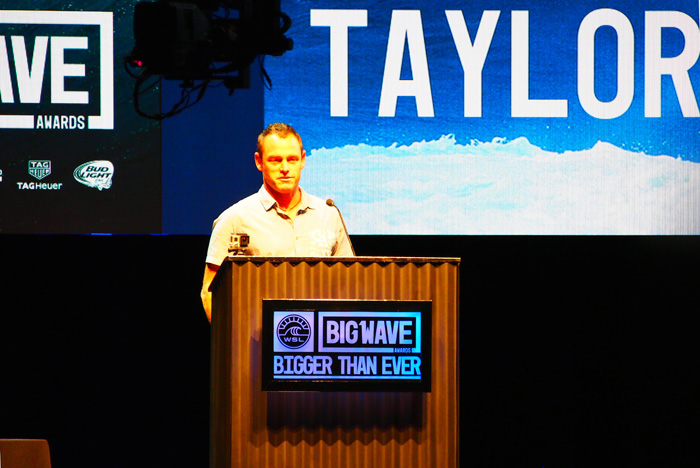 Taylor Knox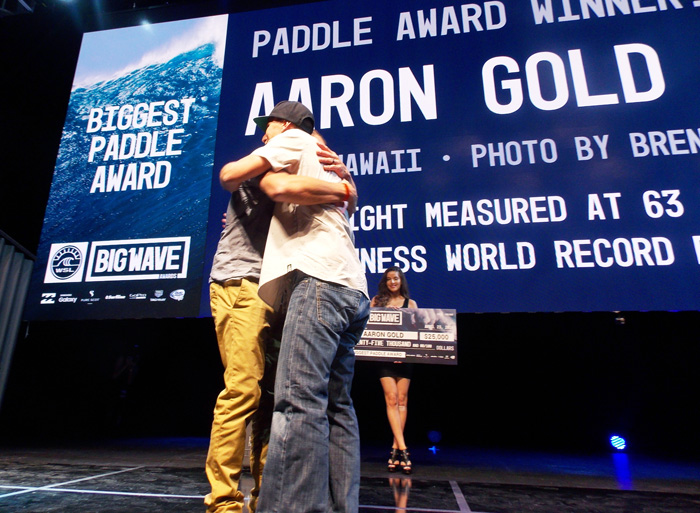 Aaron Gold - Paddle In Winner gets a hug from Taylor Knox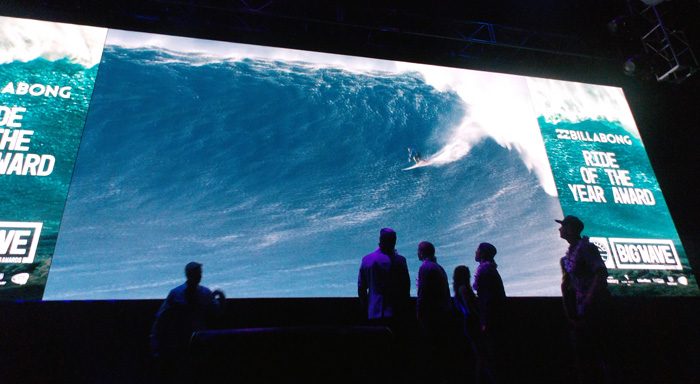 Ride of the Year Nominees look on as each surfer's contending wave is shown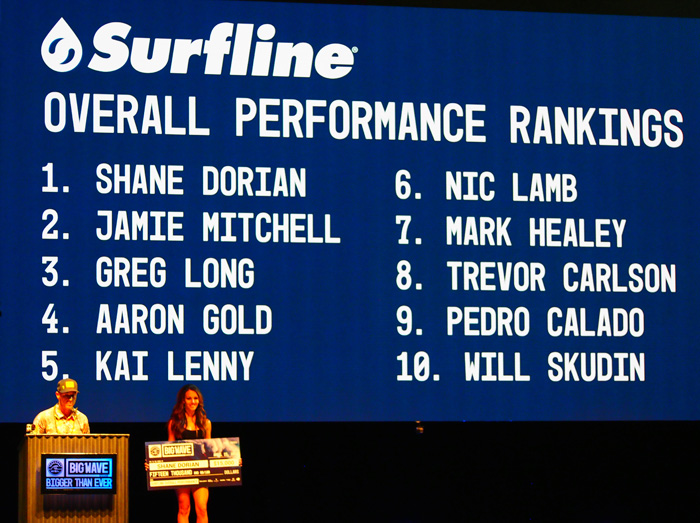 Overall performance rankings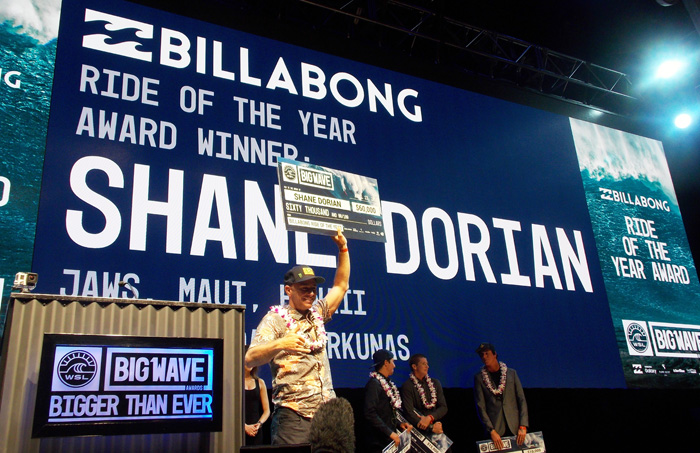 Shane Dorian claims his prize
The world's best big wave surfers hit the red carpet in Southern California Saturday night for the 2016 World Surf League (WSL) Big Wave Awards. The 16th annual awards gala at the The Grove Theater in Anaheim celebrated the greatest rides of the past year and honored the icons of the big wave community.

Accolades and awards were handed out to those who have demonstrated the highest performance of big wave surfing, ranging from barrels to wipeouts. During the yearlong window, submissions poured in from breaks around the world.

Shane Dorian, one of the world's most decorated Big Wave surfers, secured the Billabong Ride of the Year Award, as well as the Surfline Men's Overall Performance of the Year Award. Dorian, after a celebrated career on the elite WSL Championship Tour in the 1990s, transitioned into the big wave community and became one of the most celebrated big wave surfers of all time. Saturday night's awards further cement Dorian's place in surfing history.

"Thank you first of all to Surfline and WSL for this," Dorian said after winning the Surfline Men's Overall Performance Award. "It is a huge honor as this is probably the hardest award to win and probably the most prestigious because it is not based on one wave or one session. Just to be nominated with these guys is incredible to me. I thought that all nominated had standout seasons. It was just an amazing season, a lot of people had a lot of opportunities, and I'm extremely grateful."

Other big winners of the night included Aaron Gold, who secured the Best Paddle Award for his ride at Jaws, Maui, Hawaii. Gold's award winning ride has broken the record for the biggest wave ever paddled into, with a wave height of 63 feet, surpassing the previous record set by Shawn Dollar at Cortes Bank. Yuri Soledade won the TAG Heuer XXL Biggest Wave Award for his ride at Jaws, Maui, Hawaii. Niccolo Porcella earned the TAG Heuer Wipeout of the Year Award for his over-the-falls drop at Teahupoo, Tahiti.

Along with the unforgettable honors awarded during the event, Keala Kennelly continued the trend by winning the Pure Scot Barrel of the Year Award for her massive tube ride at Teahupoo, Tahiti. Kennelly's win marks an historic moment at the 16th year of the Big Wave Awards, with the first time a woman has won in the category, or in any open-gender category.

"When I was a little girl, I kept getting told I could not do things because I was a girl," Kennelly said. "I was told that women can't surf...I was told this about getting barreled, surfing big waves, surfing Pipeline, paddling in a Jaws, and the list goes on. So who I really really want to thank is everyone who told me you can't do that because you're a woman. Because that drove me to dedicate my life to proving you wrong and it's been so damn fun."

Andrea Moller stood out amongst the women's field this year to take home the Women's Best Performance Award. This win marks Moller's first victory in this category.

"This award means a lot to me," Moller said. "This was the greatest winter, so to win the Women's Performance of the Year and catch some of the biggest waves ever is an honor. I almost feel like I have waited ten years to be here. I even changed my priorities as I went to school and became a paramedic. When I came back to surfing, it was not to win an award, it was for pure fun. This winter was definitely all about fun, and was also a season that pushed me to a new level."

The 2015/2016 WSL Big Wave Tour (BWT) Champion, Californian Greg Long, was crowned at the event. This achievement marks the Californian's second championship win, after securing his first Big Wave Title in 2012. Long competed in two Big Wave Tour events - the Peah'i Challenge in Maui and the Todos Santos Challenge in Mexico - where his Finals' berths garnered him enough points to best one of the most competitive fields in history.

"I can't say enough how lucky and grateful I feel everyday to have the opportunity to surf and travel the world and meet such incredible and inspiring people," Long said. "Every winter I say at the end of it 'how does it ever get bigger or better?' I know that I'm around the most incredible people in the world. This sport is only going forward to greater heights."

2016 WSL Big Wave Award Winners:

Billabong Ride of the Year: Shane Dorian
Videographer: Dan Norkunas

Paddle Award: Aaron Gold
Photographer: Brent Broza

TAG Heuer XXL Biggest Wave Award: Yuri Soledade
Photographer: Jimmie Hepp

Pure Scot Barrel of the Year Award: Keala Kennelly
Photographer: Tim McKenna

TAG Heuer Wipeout of the Year Award: Niccolo Porcella
Videographer: Tim Pruvost

Surfline Men's Overall Performance Award: Shane Dorian

Women's Best Overall Performance Award: Andrea Moller

2015/2016 WSL BWT Champion: Greg Long (HAW)

To view award winning rides from the 2016 WSL Big Wave Awards, log onto WorldSurfLeague.com/BigWave.

The WSL Big Wave Tour commences its 2016/2017 season on Wednesday, April 27, 2016. For more information log onto WorldSurfLeague.com.



---