BACK TO NEWS
Dew Tour Launches New Dewtour.com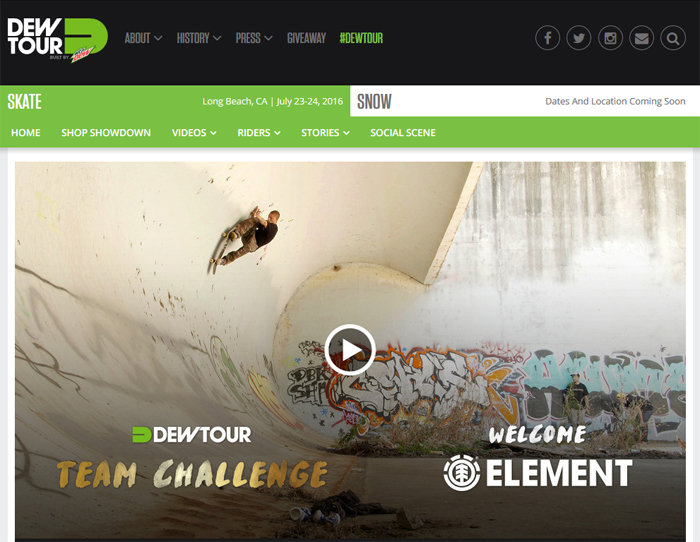 TEN:The Enthusiast Network and Mountain Dew® Unleash Content-Packed Website for Action-Sports Fans; Brand Teams and New Athletes for Summer Skate Event Revealed

Mountain Dew® and TEN: The Enthusiast Network blew the lid off the 2016 Dew Tour today with new information, athlete profiles and new videos via the launch of the new dewtour.com. TEN, in partnership with DEW®, has collaborated closely with its renowned action sports media brands including TRANSWORLD SKATEBOARDING, TRANSWORLD SNOWBOARDING, NEWSCHOOLERS, POWDER, SNOWBOARDER and GRIND TV to build a new site and social media channels that will tell Dew Tour stories in more authentic ways while feeding action sports fans a constant stream of new content year-round.

The new dewtour.com will be the hub for those following the new Dew Tour with compelling editorial pieces around the history and future of the sport, athlete profiles, action team videos, course and event information and more.

The site went live today with a host of new content including athlete profiles for Mountain Dew skaters Sean Malto and Trevor Colden who will both be competing in Dew Tour summer skate event's individual and team contests happening on July 23 and 24 in Long Beach, Calif. In addition, they revealed all nine skate brands participating in the new team skate competition, as well as video and athlete profiles to showcase the first team announced -- Element Skateboards. The team will include Element skaters Nyjah Huston, Mason Silva, Evan Smith and Greyson Fletcher.

"Everyone on the Element team are great friends so adding the team challenge makes it much more desirable to enter as a group," said Mark Falkenstien, Element Team Manager. "Long Beach is the hub for the team right now too, so having the event there makes it even more fitting for everyone to come together and have a good time."

Participating brands in the July skate contest included Flip, Element, Plan B, Baker, Girl, Real, Toy Machine, Enjoi and Birdhouse. The all-new team element will bring style and creativity to the forefront on Sunday, July 24 when 36 of the best skaters in the world face off against each other in an all-out team battle. Every Monday, dewtour.com will release a new video and information highlighting invited athletes from each team.

The explosion of content on dewtour.com today is just the beginning as the Dew Tour content team (made up of action sports editors, photographers and creatives) will continue to create and release content weekly at first and then daily to build hype as the contest gets closer.

"When we started talking about what we could do to reimagine the Dew Tour, we knew we wanted to bring it back to action sports' core values of style and creativity. Action sports are as much a vehicle to interpret the world around us as a sport and we felt it was important to use these filters to help Dew Tour move beyond the contest space and allow for broader storytelling," said Gerhard Gross, Dew Tour Content Director. "Audiences are demanding better stories than ever before and they want fresh content on all platforms constantly. To meet this demand, we've taken an 'always-on' editorial approach to delivering not only the highest level of skateboarding, snowboarding and skiing content but pieces on trends, hot topics, opinions and gear. We've assembled one of the best content teams in the industry to bring this vision to life."

"When we started working with TEN to reimagine the new Dew Tour, one thing was clear – we needed to be creating content that connected with them in the sport and beyond, as we know skate is a lifestyle," said Sadira Furlow, Director of Marketing, Mountain Dew. "This is a strategy we're taking across all of our sports platforms as we see the worlds of sport and culture – style, art, music, technology – overlap more and more. The new digital strategy will provide them with this fresh digital content throughout the year."

The Dew Tour summer skate event will be held at the Long Beach Convention Center in Long Beach, Calif. on July 23- 24. More details on Dew Tour's winter event location and dates will be revealed over the coming months. To stay up to date on the latest content coming out of Dew Tour, bookmark dewtour.com and follow on Instagram, Facebook, Snapchat, Twitter and YouTube.



---