Back to News
K-Swiss Brand Appoints Sean O'Shea as Creative Director
May 26, 2016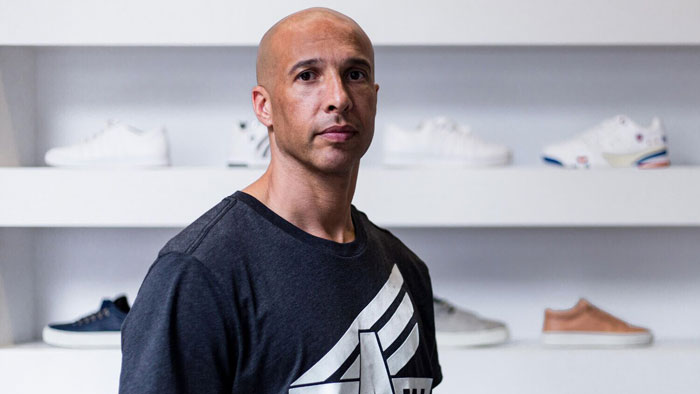 Multi-brand lifestyle company KSGB, has appointed Sean O'Shea as the new Creative Director of the K•Swiss brand. Effective immediately, O'Shea will oversee all facets of K•Swiss product design globally. O'Shea will be headquartered in Westlake Village, CA, reporting directly to K•Swiss President, Barney Waters.

"O'Shea is a respected veteran with a track record of design innovation and commercial success", said Waters. "Everyone knows K-Swiss' strength in heritage court style, and now Sean will lead us into the next phase of our brand development, through modernization and innovation, capturing the sophisticated athletic styling of our young entrepreneurial consumer".

Bringing almost 20 years of footwear design experience with him, O'Shea brings vision and leadership to K•Swiss. In his new role, O'Shea will establish a long-term roadmap for the brand while driving footwear innovation from concept to finished product.

"K•Swiss is a legendary sneaker brand with a truly amazing heritage story. The team's goals speak to my own vision of footwear design and I'm excited to be part of such an iconic brand and talented team," says O'Shea.

O'Shea joins K•Swiss from Puma, where he served as Head of Design for running and training, leading the brand's product efforts in one of the most competitive footwear categories. Prior to Puma, O'Shea put in time as the Senior Footwear Designer for Nike Basketball, Vice President of Men's Footwear at Marc Fisher, and Senior Design roles at Global Brand Marketing Inc., Polo Ralph Lauren, Adidas and Converse.

About K-SWISS
Founded in 1966, K-Swiss is a heritage American tennis brand. During its history, K•Swiss has represented innovation, quality, performance and style. Its signature K•Swiss Classic, the first leather tennis shoe, made its debut at Wimbledon, and 50 years later is still a style staple both on and off the court. Under new leadership, and committed to a fast-paced and significant brand turnaround, K•Swiss is based in Westlake Village, CA. For more information, please visit www.kswiss.com.



---