BACK TO NEWS
Katadyn Launches Its Smallest, Most Compact Water Filter
Katadyn is proud to announce the launch of its latest addition, the BeFree™. An integrated microfilter and flexible soft flask for backcountry and urban travel.

The Swiss leaders in water filtration and purification partnered with SoftFlask™ technology leader Hydrapak® for an ultra-light .6L water filtration system.

"Katadyn is a name synonymous with trusted water filtration. The BeFree is representative of our proven filtration and the innovation to deliver new technology through fresh, dynamic designs," said Shawn Hostetter, president of Katadyn North America.

The BeFree's sophisticated design introduces elements of hydration and filtration that have not yet been readily available to the market. Its unique EZ-Clean Filter Membrane negates the necessity of backflushing, allowing users to simply shake or swish to easily clean the filter anytime, anywhere. The BeFree filter offers easy drinking without sucking due to its unique Free Flowing Channel filter technology.

As the smallest packable filter in the Katadyn lineup (read: 58g), the BeFree packs down to fit in your pocket, allowing users to smash, stash and go.

"The reliability and trust in Hydrapak products aligns well with the Katadyn name. We are thrilled to partner with Hydrapak for our new BeFree filter," said Hostetter.

Katadyn's trusted filter technology safely removes up to 99.9999% of bacteria and protozoa using the new 0.1-micron EZ-Clean hollow-fiber filter. The
BeFree™ protects users from harmful organisms such as Cryptosporidium, Giardia, E-Coli and Salmonella.

For more information, please visit www.katadyn.com.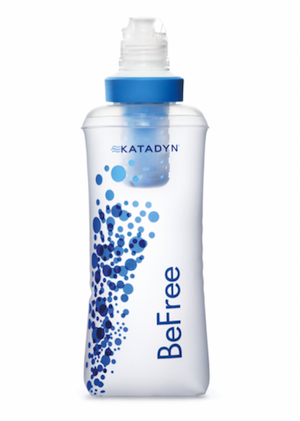 ---