Back to News
13th Annual International Go Skateboarding Day Announced
June 9, 2016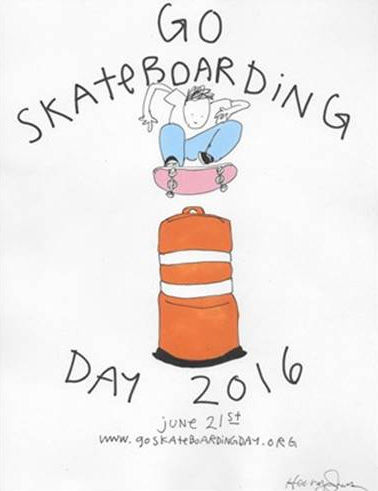 The International Association of Skateboard Companies (IASC) is proud to announce the 13th annual Go Skateboarding Day, slated to take place on the first day of summer, June 21. Go Skateboarding Day is the global holiday dedicated to skateboarding, created so that every skateboarder in the world can focus 100% on the sport that unites them – skateboarding. This day brings together the skateboarding community and encourages everyone to drop what they are doing, have fun, and go skateboarding!

Since its inception in 2003, Go Skateboarding Day has worked to honor and unite participants in the spirit of skateboarding, and has been the impetus for action. It's inspired cities to build skate parks, it helps promote local skate shops, and continues to raise money for local charities. What started out as a small group of colleagues skating to the Huntington Beach Pier has grown into a worldwide event, complete with millions of participants. Since the Summer Solstice is the longest day of the year, and the first day of summer, it was a natural pick for the event, which continues to grow exponentially each year. This year is the biggest yet, and is sure to bring great achievements for the skateboarding community.

In 2008, the first collectable GSD poster was introduced as a way to bring more awareness to Go Skateboarding Day. Posters are designed each year by well-known artists and professional skateboarders, and have included Ed Templeton, Steve Caballero, Shepard Fairey, Jim Phillips, Natas Kaupas, Grant Brittain and Alphonzo Rawls. This year's poster was created by popular Instagram sketch artist Henry Jones, whose art highlights the humor, simplicity and power that is skateboarding. Check him out at www.instagram.com/henry_jones. A limited number of posters and prints are available for sale online, with all proceeds going to support the Go Skateboarding Foundation, a 501 (c ) (3) non-profit corporation.

"It's always amazing to see the energy of Go Skateboarding Day grow stronger and stronger each year. From 20,000 skaters hitting the streets of San Paulo, Brazil, to friends building new DIY spots in their local community – it's become a day where the global skate family unites and makes an impact on the world," said Don Brown, IASC's chairman of the board. "Get ready to roll - this June 21st will be the biggest day for skateboarding yet."

Last year, millions of skateboarders participated globally in more than 1,000 events held worldwide. GSD unites the global skateboard family in order to have fun, as well as acts as a great way to awareness and the funds needed to build much-needed skateparks, local charities and other community needs. It's also a great tool to promote local skate shop businesses. Across the country, there will be skate product giveaways, contests, at some of world's biggest skate parks – from the United States to Panama, from England to Austria, and many places in between.

What follows are just a few examples of what will be taking place across the Globe that people can attend to support GSD:

• Nike SB: LA are you ready? Come out to the West LA Courthouse with the Nike Skateboarding Team from 12pm for ?#?GSD2016. Sign-up and check out a full list of events at www.nikesb.com/goskateboardingday
• Skateistan: Every June 21 since 2009, Skateistan has celebrated GSD, along with millions of other skateboarders around the world. In both Afghanistan and Cambodia, kids and staff will take to the streets on their skateboards to share their love of skateboarding and common identity with people of all backgrounds.
• DC Shoes: The iconic shoe brand celebrates GSD with the GLOBAL SKATE JAM, a unified event that takes place worldwide. These include BBQs, skatepark jam sessions, best trick contests and more. Check www.dcshoes.com/gsd to link up with fellow skateboarders in areas across the world to enjoy the fun.
• éS: éS will be having a huge éS Game of SKATE in Philadelphia, PA inviting all East Coast skate shops to bring riders to compete for Thousands in cash and prizes with support from Stance, Nixon, LRG, and Skull candy.

Additional events will happen across the world, including in Romania, Costa Rica, Columbia, United Arab Emirates, Israel, South Africa, Czech Republic, Poland, China, and Guatemala.

For events in your area and further details on these events, please check out www.goskateboardingday.org or Facebook http://facebook.com/goskateboardingday. Sign up your event to let the skateboarders in your area know where to be on Go Skateboarding Day. Looking for a GSD event in your area? Check our website the week of to find out where to be.



---