BACK TO NEWS
Dusters Skateboards and California Locos Debut Collection at Venice Beacch Art Show and Skate House Party
Dusters California and the California Locos stayed true to their identities with a product launch event in Venice Beach last Saturday night. With roots steeped in graffiti, surf, skate, punk rock and the contemporary art world, the California Locos displayed their work at The Rose Room. More than 700 skateboarders, art lovers, friends, media and locals enjoyed a short film revealing the new collection of skateboards and a documentary on John Van Hamersveld titled "CRAZY WORLD AIN'T IT – The Life and Times of John Van Hamersveld." Those that weren't in attendance can watch the film today here: http://bit.ly/dusterscalifornialocos
Photo Credit: Neftalie Williams


Left to Right: Chaz Bojórquez, Gary Wong, Dave Tourjé, Duster's Creative Director Nano Nobrega, Norton Wisdom and John Van Hamersveld. The CALIFORNIA LOCOS—represent 50 years of Los Angeles art, each having been influenced and inspired by the surf, skate, music and barrio culture, as well as formal art practice that has combined and morphed in Los Angeles from the '60s through today.

SKATE HOUSE PARTY

Next door to the gallery a skate house party raged at the Juice Magazine House. Those lucky enough celebrate the Dusters x California Locos skateboard collection launch in the Juice house had a chance to enjoy Salba's band play a set on the balcony overlooking the beach boardwalk before the night's grand finale – Los Savages. The Venice Beach boardwalk was packed for Los Savages set, and Norton Wisdom created live art in front of the Juice House throughout their performance.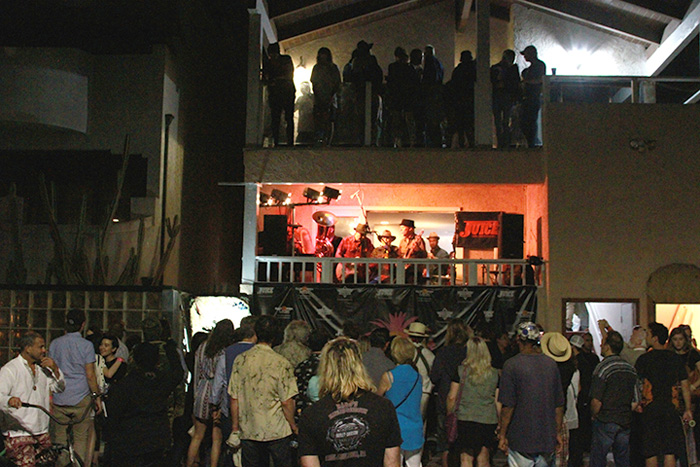 Photo Credit: Dan Levy


ROOTED IN CALIFORNIA

Dusters' roots lie in the cradle of surf and skate culture in the golden haze of California. Bred from the same spirit that was born in the 60's and 70's when skateboarding, surfing and music defined themselves against establishment. Dusters California is built by a team that understands the functionality of these boards with more than 25 years of experience in the industry. Throughout the years of skateboarding and manufacturing, we learned the importance of the fit and finishes of a skateboard, which can be seen in every single detail of Dusters' boards.



---