Back to News
23 Proven Networking Strategies From An Expert Career Coach
July 28, 2016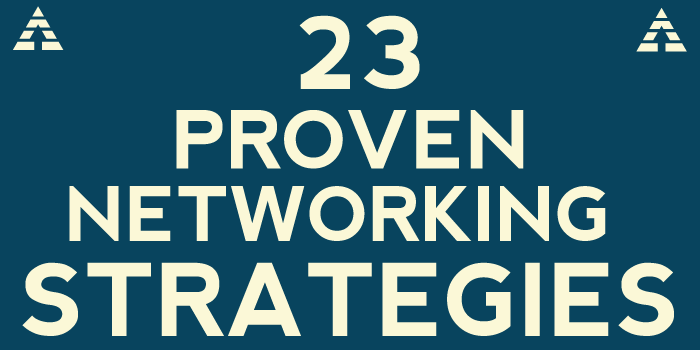 Does the idea of networking for a new job or business opportunity seem intimidating to you? This list of must-know tips for professional networking will help you prepare and master the art of relationships.
As a career coach, one of the primary skills I get my clients to build is their networking skills. Networking skills aren't just about getting what you want, but they're about connecting, helping, and building reliable relationships. Positive relationships are what open up opportunity to help and be helped.
Networking is scary and, at times, nerve wracking. Armed with information, insight, and confidence, you'll be able to make connections, achieve goals, and build profitable long term relationships.
1. Look around you. The vast majority of jobs in the world are secured through networking. Or quite simply, through our relationships with people. These relationships can be formal (such as in a business or educational environment) or casual (through family and friends).
2. Networking with purpose. The purpose of networking is to A) Find information B) Enhance visibility (get others to know you're out there) C) Obtaining opportunity or referrals (opportunity can be as changes to give or to take).
3. Turn to your fan club. Start with people who believe in you and who want to see you succeed. This group includes family, friends, business contacts, church and community service members, teachers, community leaders, and so on. This initial phase in networking will help improve your communication skills and give you the confidence you will need to approach those who do not know you.
4. List your goals and objectives. Make a list of what you want to achieve during the networking process. This can include goals or short-term objectives. Knowing what you want to achieve will help you get to the point faster and more clearly.
5. Study up. If there are people or companies that have yet to know you, take the time to study up on these individuals or organizations so that you sound and appear knowledgeable and like an "insider".
6. Stay organized. During the job search process, keep a folder with all of the information you've gathered on networking contacts or organizations. You never know when you'll be called in for an interview and you'll need to refresh your knowledge bank.
7. Look to your employees. Networking contacts also includes people who work for you – this includes service providers such as gardeners, accountants, lawyers, esthetician, dog walker, house keeper and other service professionals. You never know where leads and good information can come from. These people are also happy to help since you are regularly employing them and sending them work.
8. Consider career professionals. When considering your networking contact list for a new job or career, include your career coach or counselor, headhunter, and job search agency account executive. These individuals know information about the job market and might give you tips on how to market yourself given the current market conditions.
9. Increase your odds by networking by two. Networking is a numbers game. The more, high-quality sources you know, the higher your chances of success. Networking by two is a technique I get my clients to employ when they are networking for information. All you have to do is ask at the end of your networking conversation, "Do you know two or three people who could help me answer my questions on X topic?" Remember, only those who are confident and comfortable with sharing contact information will do so, so be sure to be prepared, reliable, and upfront about your intentions.
10. Mind your manners. Networking is a social activity, so it means remembering your manners. One can never say "Thank you" too much. Offer assistance to those who help you, show your gratitude, be reliable in following up and be honest and earnest. Watch your attitude and demeanor. People can sense when you're being sincere or not.
11. Be specific. Earlier, I said to write a list of goals or objectives that will help identify what you want to accomplish during your networking campaign. This also includes having a list of specific questions that can help you get specific answers. This is not just an act that will help you remain confident when asking questions, but you'll also get valuable information and uncover wonderful opportunities because people are able to give you specific answers in response to your specific questions.
12. Network for information. Approach networking as a quest for information. This information will help you know where to look next, what questions to move onto, intelligent sources, and game changing information. People are turned off by those who simply ask for job opportunities. Focus on getting answers to questions and believe that opportunities will come naturally from conversation. People love solving problems, so if you approach your networking contacts with a problem, they will naturally feel inclined to help you get to the next step.
13. Be enthusiastic. Approach your networking campaign with joy and excitement. People love to help positive, self-starting people. Coach yourself to remain positive and envision yourself steadily accomplishing your goals. When people ask you how your job search is going, respond with positive insights and small successes. Show others that you're dedicated to seeing positive change – even in small bites.
14. Become a confident speaker. This doesn't mean you have to give a speech in front of thousands, it just means that you mean what you say and say what you mean and you feel comfortable executing your thoughts and ideas. Practice with your coach, friend, or loved-one – or, even in front of the mirror – until you feel natural about explaining who you are, what you are looking for, and what you aim to accomplish.
15. Practice excellent telephone skills. Make sure you have a business appropriate voicemail message, you respond promptly to calls and inquiries, you don't keep people on hold for excessive periods of time, and that you answer your phone politely. While you're at it, be sure to take calls when you're not driving, shopping, or distracted. Your behavior indicates your seriousness and respect for those who want to help you.
16. Compensate others for their time and information. Networking goes both ways. If you ask someone out for a drink to discuss a subject, be sure to buy them a drink. If you go to lunch with an old colleague, offer to buy their meal. Invest in your relationships by showing small acts of goodwill. If they insist otherwise, be sure to remember their kindness and offer help to them whenever they need it.
17. A little flattery goes a long way. If you have followed my advice from these previous parts, then you will have studied your networking partners and their associated companies. This knowledge will afford you the ability to compliment their work, their products, and any of their achievements. Tactful flattery shows interest and enthusiasm about your networking partners. Don't be afraid to use your charms every once in a while.
18. Follow-up every time. After every single networking opportunity, be sure to follow up with your networking contacts. Thoughtfully mention the things they said that helped you and thank them for their insight and advice. When possible, mail a thank you note or call them to personally say things. Following up means you care about your networking contacts and that you are consistent and reliable.
19. Stay in touch. Even if a networking contact helps you just once or may not be able to help you at all for your present campaign, it doesn't mean you should write them off or fall off the face of the earth. Follow up on a regular basis to see how they are doing, let them know of your progress, and so on.
20. Socialize and have fun. Networking is a social activity which means we must connect with people and enjoy the interactions. Networking can happen in a professional context, a casual one, and even while having fun. Get out and enjoy yourself – people love to be around people who love themselves and can enjoy their lives.
21. Carry calling cards. You never know when opportunity might present itself. Hand out calling cards to those who are interested in following up with you. It's better than searching for a pen and paper or trying to call someone's cell phone in a busy environment.
22. Make it an everyday thing. Networking is not just a day reserved one a month, but what you do on a daily basis. Be sure to consciously keep your networking campaign at the front of your mind and allow daily opportunities to present themselves. Actively engage on these opportunities. Regular habit makes networking natural and enjoyable.
23. Let go of your fears. Let go of the fear of rejection. Let go of the fear of hearing NO. Let go of your own judgments and assumptions. Fear is what paralyzes good people from making great relationships. Understand that mistakes will happen, connections will not always be made, and opportunities will not always happen when you expect them to. Embrace life's spontaneity and the unknown, your wildest dreams are hiding behind your expectations.
Who is Leslie Juvin-Acker?
Leslie is the lifestyle industry's premier leadership coach and expert career strategist, delivering weekly career advice articles to readers at Malakye.com. You've also seen Leslie at The Shmooz, Malakye's career networking event, giving career and professional branding advice to hundreds of attendees.

LJA Coaching is Leslie Juvin-Acker and is a holistic coaching practice that attunes insight from Spirit through Leslie's intuitive abilities, creates space for personal transformation with energy therapies, and offers a unique and expert career coaching experience to develop strategies for success.
Contact Leslie: driveca[email protected] / ljacoaching.com / CALL/TEXT 760-846-1399
---