BACK TO NEWS
MAFIA Bags Launches New Collections of Sustainable, Upcycled Packs From Re-Used Sails at OR Summer Market Show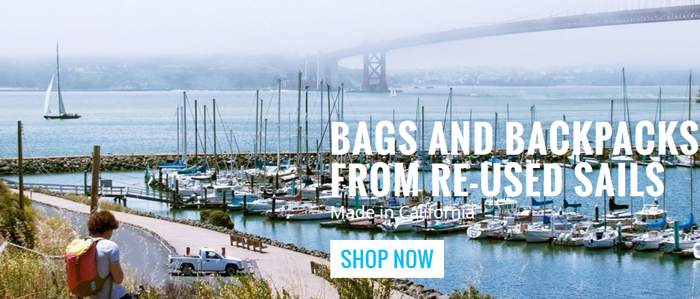 Started by the brother-and-sister team of Marcos and Paz Mafia in their hometown of Buenos Aires in 2012, the eponymous company MAFIA Bags has grown significantly over that last four years from the original idea of how to repurpose colorful boat sails – and save them from the landfill. Fast forward to 2016, and MAFIA Bags, maker of sustainable, upcycled packs, bags, and accessories from kiteboarding, windsurfing, and boat sails, will make its debut at the Outdoor Retailer Summer Market in Salt Lake City Aug. 3-6 in the Venture Out section (Booth #VO2295). Showcasing its new, one-of-a-kind, Made in the USA lifestyle products, the brand is stoked to share its story, vision, and unique designs.

"MAFIA first started as a pursuit to find the perfect bag to carry our wetsuits around the world – going from plane to beach and back again – all while helping to lessen the number of sails that end in the landfill. It started as a community-based brand where friends both donated sails and used our packs, and we learned along the way – but quickly realized we had something here," said Marcos Mafia, MAFIA Bags CEO. "We now operate in four countries, have a growing team of employees, and have expanded our product line to not only include the perfect globe-trotting wetsuit bag, but also a refined collection of versatile packs and totes to accommodate both beach and city lifestyles."

All MAFIA products are made from upcycled sails and event banners and washed, cut, and sewn in California from start to finish – and backed with a lifetime warranty. With the process, no two bags are alike, which adds to the personalization and custom feel and look of each bag. Individual identity is celebrated through each unique design. The brand is also committed to community and employ a local workforce to construct each product in California, so when you get a MAFIA bag you're also getting a piece of the ocean, supporting local communities, and sustainable practices.

As a pro kitesurfer in Argentina – and Argentine Kitesurf Champion at age 22 – Marcos first got the idea to create bags when he found he was storing tons of kites that were too old to use for surfing, but still colorful and strong. He quickly discovered there were also windsurfing and boat sails stacking up in storage facilities, and the concept for MAFIA Bags was hatched.

Born out of a passion for water sports and sustainable business practices, MAFIA's story and different product designs initially spread by word-of-mouth before opening its flagship store in Buenos Aires in 2012. Upon expanding to its headquarters in San Francisco in 2014, the company raised more than $26,000 through a successful Kickstarter campaign to open a storefront and offices with in-house production in the city. In 2015, MAFIA opened its third retail location in Tokyo, and is slated to break ground on a fourth location in London in the near future.

With more than 16 styles of handmade bags and accessories ranging from $30-190, MAFIA will debut products like its Discover Pack, Day Off Tote, and Sand Bag, as well as smaller items like wallets and ditty-style pouches at the OR Show. Some of its collab bags with brands like Vans, Sperry Top Sider, and Stanford D. School will also be on display.

"Our belief in a low-impact lifestyle guides every decision we make – from reusing cardboard shipping boxes to guaranteeing every product we make with a lifetime warranty," said Marcos. "Sustainability has always been second nature to us through our use of reclaimed sails, and has connected us to the wider like-minded community such as B-Corporation, of which we have been members since 2013."




---