BACK TO NEWS
Element Connects with Boise Community
Element 304 Americana Offers a Positive Space Through the Avenues of Nature, the Arts and Skateboarding

As a positive skateboarding company born from the streets, arts and nature, Element is proud to announce that the grand opening of Element 304 Americana will be this Saturday, August 6 in Boise, ID. Element's Founder Johnny Schillereff and his wife envision 304 Americana, located adjacent to the Rhodes Skatepark, as the community center that will celebrate skateboarding culture for all generations. Timed with the grand opening of the Rhodes Skatepark, the event will include a demo, signing and skate jam with the world-class Element Pro Skate Team, including standouts: Nyjah Huston and Tom Schaar.
"When my wife and I first experienced Boise, we knew that this was the perfect place for Element to be involved. A kind city, with great skateboarding, surrounded and embraced by nature. Boise, Idaho embodies the spirit of Element," said Element Founder Johnny Schillereff.
Element 304 Americana is truly an extension of Element's headquarters in Costa Mesa. Conscious by nature in its purpose and choice of material, this historic building was built out by local skaters and a local tradesman with recycled and reclaimed supplies. Element 304 Americana will serve the community, artists and the brand in the following ways:
· Community Center: A place for the skate community to congregate, create and give back.
· Skate Shop: There will be a skate shop in the building selling Element products and showcasing Element's history, while directing skateboarders to local retailers.
· Creative Work Spaces and Showroom: Boise's urban streets and great skatepark located so close to the mountains provides a truly inspirational area for Element staff to develop new ideas, campaigns and products. The location also makes it a perfect place for line preview meetings with retail partners.
· Event Space: Hosting events and collaborations with local retailers, artists and tradesmen within the skateboard community.
"The mission of Element 304 Americana is to nurture and support the local skateboard community and empower the youth to reach their full potential," said Schillereff.
RHODES SKATEPARK GRAND OPENING
Element is bringing its team of professional skateboarders to the event to put on a demo, autograph signing and host a skate jam for locals. Standouts from Element's stacked team include Nyjah Huston, eight-time X Games Gold Medalist and one of the most popular skateboarders in the world, and five-time X Games Big Air medalist Tom Schaar.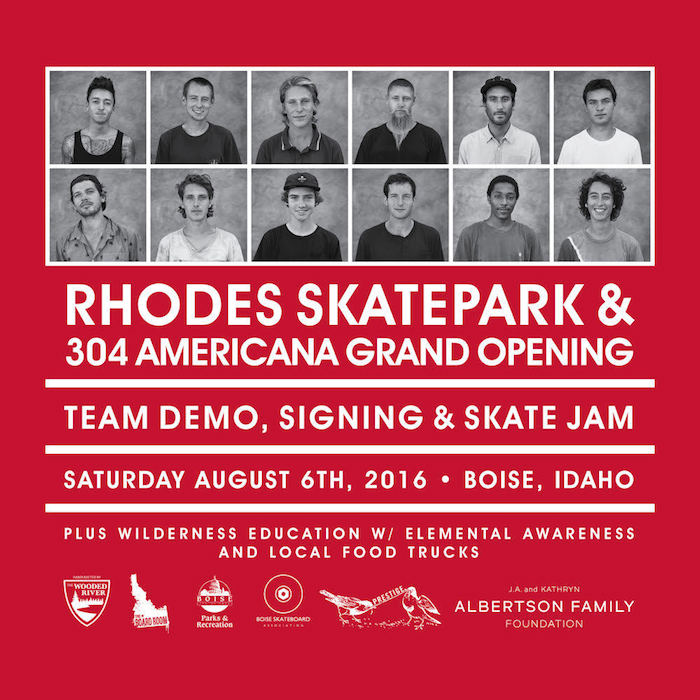 RHODES SKATEPARK GRAND OPENING:
1 p.m. – Open Skate Jam with Prizes
2 p.m. – Element Team Skate Demo
3 p.m. – Autograph Signing
Addresses:
Rhodes Skatepark
1555 W Front Street
Boise, ID 83702
Element 304 Americana
304 S Americana Blvd
Boise, ID 83702
Participate in the conversation around the grand opening this weekend with #elementboise hashtag. For the latest on Element, follow @elementbrand.
About Element: Founded in 1992 by skateboarder and artist Johnny Schillereff, Element has grown from a skateboard company to a global brand spanning hard goods, apparel and accessories for men, women and boys represented by the best skateboarders in the world. Through the longstanding Advocate series, Element has developed a rich tradition of collaborating with top artistic talents including PUSH, Thomas Campbell, Jeremy Fish, Timber and photographer Brian Gaberman, among others. Today the company is sold in more than 60 countries and 5,000 points of sale in leading destinations across the US, Canada, Europe, Australia, Brazil and Japan. For more information please visit www.elementbrand.com.
---