BACK TO NEWS
The Hookit "HVM" Tool for Digital and Social Media Valuation Wins the Direct Marketing Association of America's 2016 Marketing Innovation Award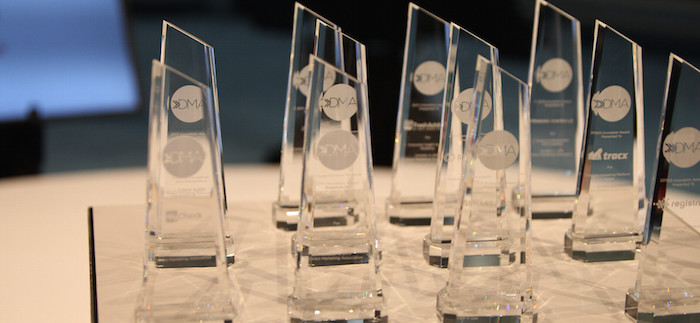 Hookit, a data-driven sponsorship intelligence platform, has been named by the Direct Marketing Association of America (DMA), the leading U.S. data and marketing association, as the winner of its prestigious 2016 Innovation Award in the Measurement and Attribution category for its disruptive Hookit Valuation Methodology ("HVM").
"Today's marketing ecosystem is changing and evolving at an incredible pace, and marketers are constantly in search of the next technology or solution to help them reach their customers," said Paul McDonnough, DMA's VP of Conferences & Events. "DMA's Innovation Awards highlight the martech solutions that drive relevance, responsiveness and results for marketers. This year's Innovation Award winners represent the best of the adaptive and pioneering spirit that is reinventing how marketing is practiced in the digital media environment."
The HVM tracks, measures and values overall engagement generated around sponsorship assets across digital and social media platforms. Unlike social listening tools which track text-based trends on individual platforms, the HVM measures value across multiple social and digital platforms by analyzing overall engagement, including mentions, hashtags, and brand logos using image recognition tools within photos and videos. The sophisticated HVM algorithm provides an earned media value to companies looking to gauge the success of their marketing programs.
The DMA 2016 Innovation Award for Measurement and Attribution recognizes superior solutions that allow accurate and timely measurement that also enable marketers to make more informed decisions about the allocation of their investments in real time when necessary. These technologies go beyond last-click attribution to provide greater accountability and measurement of the value of each marketing contact that contributed to a desired outcome, enabling marketers to more clearly understand what's working and what's not.
Hookit customers are doing just that. Last summer, the Canadian Olympic Committee deployed the HVM during the Rio games via live dashboards that tracked the value for sixteen corporate sponsors, a first for any National Governing Body in Olympic Sports. The verified engagement data provided real time content and insights which enabled the proactive Team Canada marketing staff to make on the fly adjustments to maximize valuable engagement around their athletes and sponsors.
"More than half of companies that invest in sponsorships and events fail to measure their performance and impact," says Scott Tilton, CEO of Hookit. "Our measurement tools start where traditional television and print media measurement expertise ends. Our disruptive, innovative and verified engagement valuation platform for the social and digital media landscape identifies previously unmeasured value created for brands, sponsors and rights holders."
Hookit has been on an impressive new customer acquisition path since launching the valuation methodology in December 2015. Over the last four months, Hookit's best-in-class customer base has grown from long time partners GoPro, Monster Energy, and Suzuki, to include top-notch clients including; the Cleveland Cavaliers, the Los Angeles Lakers, the Canadian Olympic Committee, The US Ski and Snowboard Team, Major League Soccer on behalf of the Copa America Soccer Tournament, NHRA, the LPGA as well as top notch brands like Motul Oil, Dunlop Tire, Vans Footwear and the KAABOO music festival.
---