BACK TO NEWS
NIGHT: SHIFT Curates Exclusive Pieces for New Oaklandish X Marriott Suites
NIGHT : SHIFT is excited to announce today that it has decked out the new Oaklandish Marriott Suites in Oakland, Calif. NIGHT : SHIFT and Oakland based apparel brand, Oaklandish, teamed up to produce and design the bedding, bath and living room accessories for each of the new Marriott suites. The décor and goods were designed and thoughtfully crafted to pay homage to the local history, cultural legacy and love for the Oakland community.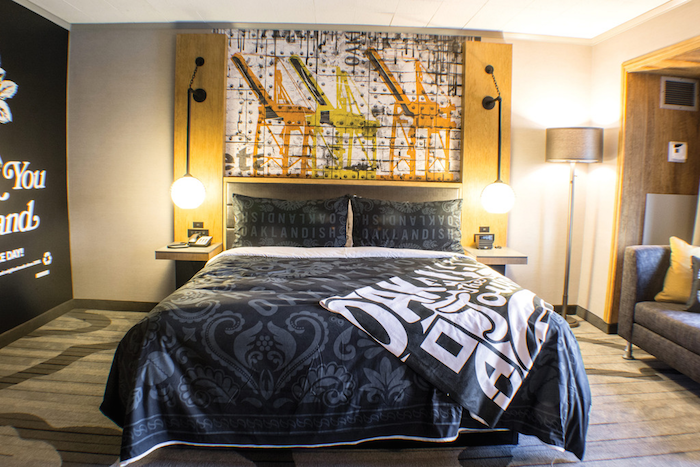 NIGHT : SHIFT and Oaklandish infused Oakland civic pride into the décor through trees, leaves and floral arrangement patterns. Each piece was carefully crafted and designed to thematically match the contemporary look of each suite.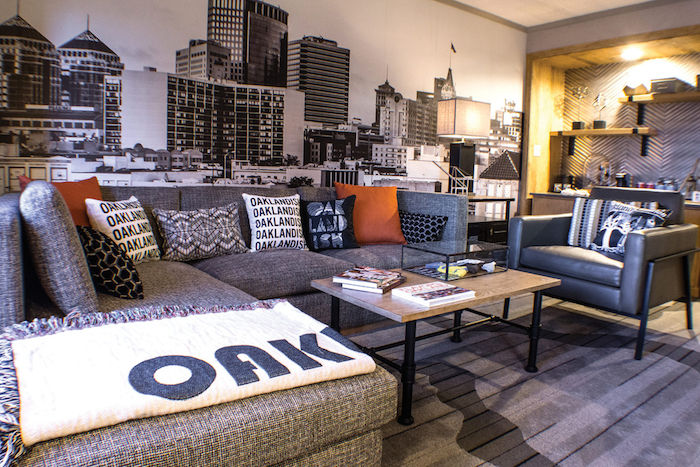 "When Oaklandish reached out to us to help deck out their Oakland-themed Marriott suites, we were honored and excited to be a part of this collaboration," said Eddie Horowitz, co-founder and CEO of NIGHT : SHIFT. "We back Oaklandish's mission in illuminating the local Oakland community and cultural legacy. For us, it was more than just bedding and décor, but a chance to partner with a brand and team of individuals that are rooted and invested in civic pride and community involvement."
What started as an art project in 2000, Oaklandish has grown to be an apparel brand that supports the Oakland community and promotes civic-pride through spreading local love. Since conception, Oaklandish has preserved the cultural legacy all while creating quality inner city job opportunities for locals and giving back to the people.
The entire NIGHT : SHIFT x Oaklandish collection is now available at oaklandish.com/nightshift and at the Oaklandish Flagship store in Oakland.
For more information, check out: nightshiftgoods.com, or connect with NIGHT: SHIFT here:
Instagram: @nightshiftgoods
Facebook: facebook.com/nightshiftgoods
About NIGHT: SHIFT
NIGHT: SHIFT wants you to dress your bed, and is the first-and-only home décor brand inspired by music, art, beach and street fashion and skateboarding. Youth were curating their wardrobes from head-to-toe, but until NIGHT: SHIFT, there wasn't a brand offering graphic-driven bedding and home goods to fit their style. The company is shifting the way consumers dress their home by constantly offering a fresh collection of unique collaborations and original designs. NIGHT: SHIFT draws inspiration from popular street and contemporary fashion trends to create a seamless narrative that extends from closet to bed.
About Oaklandish
The Oaklandish brand of apparel was introduced in 2000 to help support the organization's ongoing calendar of free public events and the Oaklandish Innovator Awards grant program. Their civic pride merchandise is meant to spread "local love" while creating quality jobs in Oakland. Oaklandish is committed to encouraging the continuation of Oakland's "trailblazers' legacy," where trends are created and boundaries are redefined. Oaklandish is a certified B Corp, and was named a 2016 "Best for the World" honoree. Oaklandish has also been included in Fortune magazine's 'Inner City 100' list of fastest-growing inner city companies three years running.
---