BACK TO NEWS
Industrial Profile
11/17/2016
Tilly's Life Center 2nd Annual "I am Giving" Gala Raised a Record-Breaking $260,000 to Support Teens Across Southern California
This past weekend, Tilly's Life Center (TLC) held its 2nd Annual "I Am Giving" Gala at the [AV] Irvine, hosted by seven-time Emmy award-winning host, Roy Firestone to benefit TLC's youth-focused programs. Attendees rocked their best black and white attire, dined and raised over $260,000 to support TLC's mission: "to inspire today's youth to reach their full potential as productive, kind, happy and responsible individuals."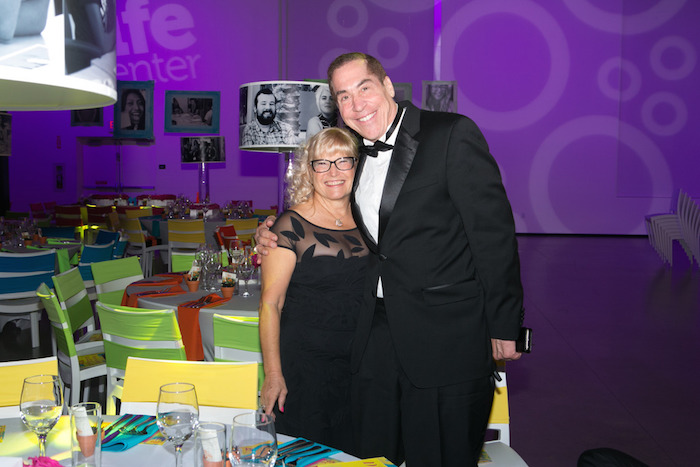 Tilly Levine and Roy Firestone at TLC's 2nd Annual "I Am Giving" Gala
"We're truly thankful for the incredible turnout at our 2nd Annual 'I Am Giving' Gala and for the support of our sponsors, volunteers and friends who made this event so special," said founder of Tilly's Life Center, Tilly Levine. "It's amazing to see our community come together and support our efforts to provide all teens with effective life tools, helping them acquire the self-confidence and self-respect needed to build a positive mind and make better choices."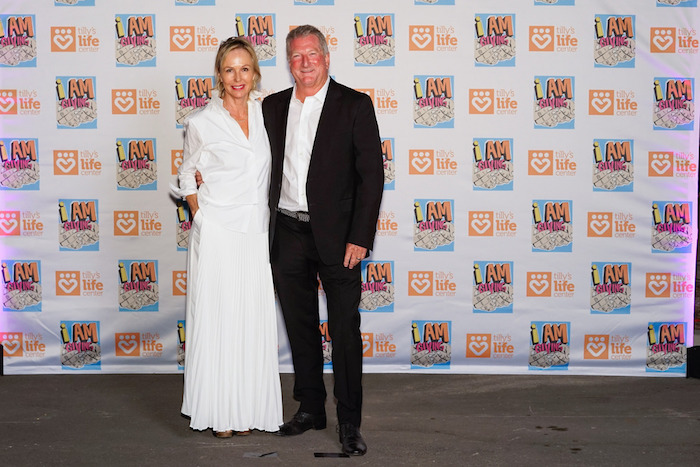 Co-founder of Quiksilver; Bob McKnight and his wife Annette joined TLC for a night of food, fun and giving to benefit TLC's youth-focused programs
The gala kicked-off with a white and pink carpet entrance-leading guests into a bustling cocktail party complete with hors d'oeuvres and drinks, a TLC themed photo booth and silent auction.
Key attendees at this year's gala included: Global President of Vans; Doug Palladini, Co-founder of Quiksilver; Bob McKnight, Director of the Adolescent and Young Adult (AYA) Cancer Programs at CHOC Children's Hospital and at UC Irvine Medical Center's Chao Family Comprehensive Cancer Center; Dr. Leonard Sender, President of Saddleback College; Dr. Tod Burnett, President and CEO at Tillys; Ed Thomas, Co-founder of Tillys; Hezy Shaked, CCO and Founding Partner of Urban Decay; Wende Zomnir, President/Chief Executive Officer at Anaheim Arena Management, LLC; Tim Ryan, Sr. VP of Pre-Construction at Sasco; Larry Kirkenslager and the Knights of the Stars & Stripes Tournament as well other key local influencers.
Following the cocktail party, guests made their way to the main event room clapping their hands to the beat of Pharrell's "Happy" song that coincided with a video montage introducing the dynamic and inspiring Roy Firestone as Master of Ceremonies – leaving the room filled with high spirits and positive energy.
Roy Firestone kept the energy up with his impersonations of Tilly Levine, Hezy Shaked, Bob McKnight, Larry Kirkenslager and AJ Sexton that had the crowd sharing laughs with one another as they dined and mingled.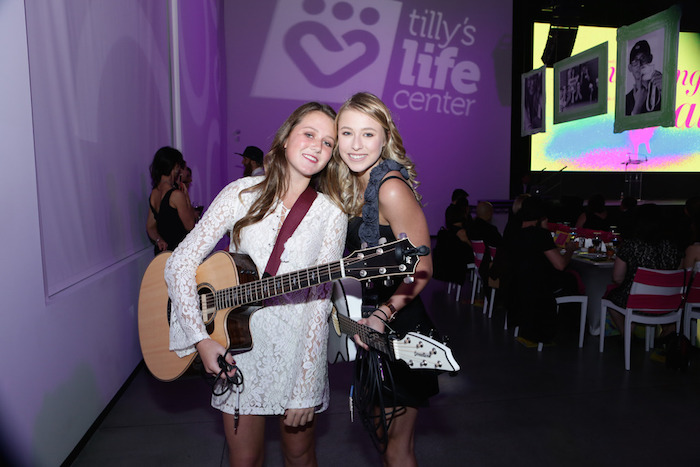 TLC ambassadors, Sidney Bowen & Molly Bergman performed a special song titled, "Who Are You" for the audience
Tilly Levine then took the stage to thank everyone who attended this year's gala and presented American motivational author and founder of Hay House, Louise Hay with TLC's "I Am Inspiring" award. Tilly also honored Tillys Chairman Hezy Shaked with TLC's "I Am One of a Kind" award; feeling thankful and moved, Hezy donated $50,000 to TLC.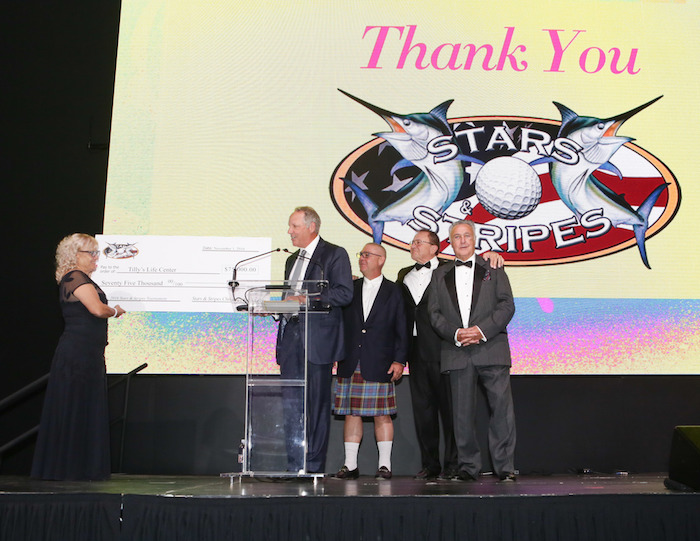 As a beneficiary of the Stars & Stripes Tournament in June, TLC was presented with a generous check in the amount of $75,000 from the Knights and Ladies of the Knights
Guests were given a glimpse at how TLC has changed and touched the lives of more than 1,600 teens across Southern California over the last few years with speeches from TLC's Teen Ambassadors Chantel Bermudez, Isabella Haden and Cristian Marron. Each teen took a moment to share with attendees their personal stories and battles in which TLC has helped them overcome, such as thoughts of suicide and fighting Cancer.
Following the speeches, guests were inspired to donate during the live auction to benefit the lives of teens across Southern California. Live auction items included a Bugatti driving experience, a weekend trip to Napa on a private jet for four, a four-night stay with Exclusive Resorts and more.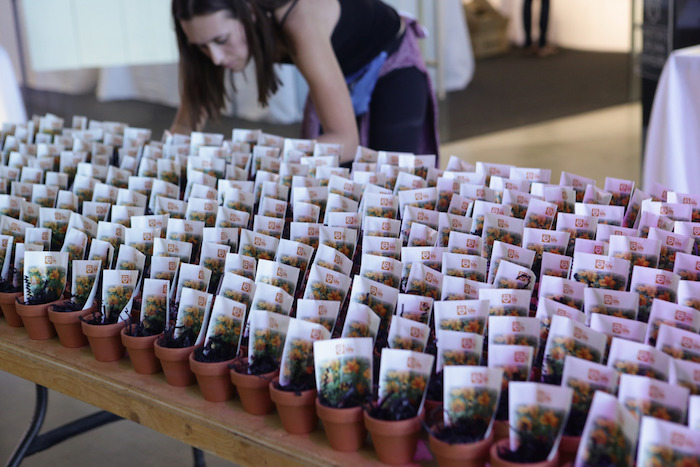 Guests participated in TLC's "I Am Forgiving" exercise by writing the name of someone or something they need to forgive, tearing it up and planting it in a flower pot to symbolize something beautiful growing out of forgiveness
Tilly's Life Center would like to thank all the dedicated volunteers and supporters who helped make this year's gala a success. Special thanks to event sponsors and auction donors: Tillys, Layrite, Saddleback College, Vans, BioLargo, Winston's Crown Jewelers, Latasi, Wells Fargo, SDI, Dickies, Trinitas Cellars, O'Gara Coach, LabelTex, Union Bank, Ultimate Events Inc., Trader Joe's, Winefolded and many more.
For more information on Tilly's Life Center, please visit www.tillyslifecenter.org and stay connected by following @tillyslifecenter and searching these hashtags #TillysLifeCenter #TLC.
About TLC
TLC aims to empower teens to overcome their own adversity and crisis through positive thinking. Through tested methodologies from globally-respected thought leaders, TLC teaches effective life tools that enable teens the confidence and self-esteem they need to take responsibility for themselves – ultimately giving them the power to make positive changes in their own lives. To find out more, please visit www.tillyslifecenter.org (http://www.tillyslifecenter.org) .
---