BACK TO NEWS
Tahoe Donner Hires Cass Rodriguez as New Baker for the Alder Creek Café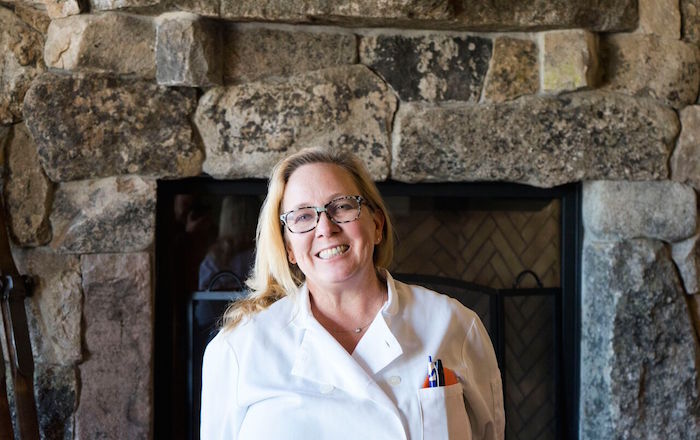 The Alder Creek Café has turned up the heat with the addition of Cass Rodriguez a new baker. Longtime owner of Joe Coffee in downtown Truckee, Rodriguez brings with her years of award-winning culinary experience and baking expertise.
Using fresh, seasonal ingredients, Rodriguez is offering guests some of her specialties such as cherry white chocolate scones, ultra-healthy morning glory muffins, gluten-free dark chocolate chunk muffins, seasonal pies and cheesecakes, as well as soups and other unique dishes.
"I like to use organic ingredients when available and try different flavor profile combinations to provide my customers with a variety of unique baked goods that are different than the same old thing," said Rodriguez. "Our goal is to make the Alder Creek Café the new morning hot spot to grab fresh-baked goods or a morning quiche and cappuccino and get your day started."
A former student at the New York Restaurant School, Rodriguez apprenticed with the famous pastry chef Francois Payard at the Restaurant Daniel in New York City. Restaurant Daniel has been cited as one of the ten best restaurants in the world by the International Herald Tribune and has earned multiple Michelin stars as well as Wine Spectator's "Grand Award."
Rodriguez moved to Lake Tahoe from Auckland, NZ where she was the pastry chef at Pandora Bakery. She was hired by owner-chef Douglas Dale of Wolfdale's Cuisine Unique in Tahoe City, Calif. where she created original recipes for pastries, cakes, pies, sorbets and tarts.
In 2000, Rodriguez opened her own business, Joe Coffee in historic downtown Truckee. Known for great coffee, an expanded menu and full bakery, Rodriguez grew her location from 80 square feet to 1,700 square feet, relocating twice in eight years. Joe Coffee earned "Best of" awards each year from 2005 to 2008.
"Cass is the right person to complement and grow our simple concept of bringing healthy and delicious options to the plate," said Mike Peters, Tahoe Donner's food and beverage director. "We couldn't be more excited to have her onboard. Be sure to stop by and say hello."
The Alder Creek Café is located in the new Alder Creek Adventure Center. Guests enjoy striking views, free Wi-Fi and ample parking. Alder Creek Café is open daily from 11 a.m. to 3 p.m. offering a new menu for the winter season.
About Tahoe Donner:
Tahoe Donner is one of America's largest homeowner's associations, with nearly 6,500 properties and 25,000 members enjoying over 7,000 acres in the Sierra Nevada. Tahoe Donner is a vibrant community with a passion for outdoor recreation and a celebration of the Tahoe lifestyle.
Located 25 minutes from Lake Tahoe in Truckee, California, Tahoe Donner operates a wide variety of recreational facilities, including an award-winning championship golf course, a family-friendly downhill ski area, and a renowned cross country ski area with a newly constructed, state-of-the-art base lodge —all of which are open to the public. In addition, Tahoe Donner operates several member-only facilities, such as a beach club marina, recreation center and pools. These amenities can be explored in detail at Tahoedonner.com.
For more information on Tahoe Donner and its recreational facilities and events, visit tahoedonner.com or call 530-587-9400. 'Like' Tahoe Donner on Facebook and follow on Twitter @tahoedonner and Instagram @TahoeDonnerAssociation.
---