Back to News
Aluminati Skateboards Announces Sponsorship of the Western Surfing Association
December 2, 2016
The Western Surfing Association is pleased to announce their partnership with Aluminati Skateboards for the 2016/2017 Championship Tour Series.
Aluminati Skateboards makes cruisers out of recycled aircraft aluminum here in Southern California. The proprietary, in-house manufacturing process allows virtually any custom design to be produced and delivers a truly unique look and feel.
Aluminati will be providing Free Demo Boards at all remaining 2016/2017 Western Surfing Association Championship Tour events up and down the California coast, culminating in the final event of the season, the West Coast Championships. Additionally, Aluminati will award 10 division winners with an Aluminati cruiser at each WSA Championship Tour event.
"We are so pleased to partner with such a fun company with a beautiful, unique product. Aluminati's Skateboards are so cool and the different art and photos on the decks are amazing. Our active surfing families are a perfect match for Aluminati and the event winners are stoked to receive these boards as a prize. I am ordering some as presents for my grandkids!" said WSA Executive Director, Mary Lou Drummy.
Aluminati's General Manager Jimbo Gaskin, a lifelong surfer, says "Surfing and Skating, is there anything better? If you are not surfing, you should be skating and all of the boards you ride should be killer. Aluminati is very happy to sponsor all the surfers and families involved in the WSA. Thanks for letting us be a part of the WSA family."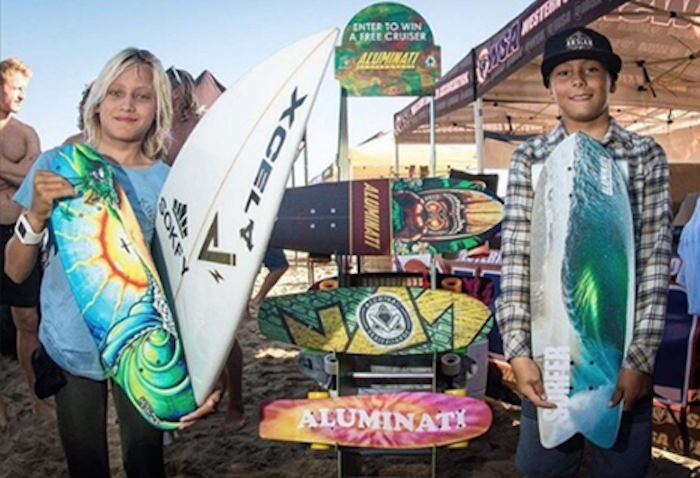 Photo Credits – Jack McDaniel/WSA
WSA SPONSORSHIP
About Aluminati Skateboards
Aluminati Skateboards is reimagining the cruiser board. Recycled aircraft aluminum, integrated clear grip and endless graphics options make Aluminati the new classic. Born and made in Southern California, Aluminati fuses the tradition and nostalgia of cruiser boards with the performance and precision of modern technologies. Aluminati's dynamic and vibrant graphics are a product of a proprietary, in-house manufacturing process that is as innovative as the precision-machined aluminum deck.
About Western Surfing Association
The Western Surfing Association (WSA) is the oldest amateur surfing association in the USA and, by far, the largest on the West Coast. The WSA, established in 1961, is a California non-profit corporation dedicated to promoting and preserving the sport of surfing through professionally run, well organized, fun, family oriented surf competitions. WSA is an official West Coast member organization of Surfing America. WSA members can earn entry in the Surfing America Prime, Surfing America USA Championships and Team Trials. For more information on WSA go to www.surfwsa.org
---