Back to News
KMC Wheels Becomes Official Wheel of Team Yamaha Motocross
January 13, 2017
KMC Wheels is proud to announce that the brand has become the official wheel sponsor for Factory Yamaha, supporting its team of racers in the American Motorcycle Association's (AMA) Supercross and Lucas Oil Pro Motocross Championship seasons through 2018. Team Yamaha has a rich racing heritage and remained a dominant force in both Supercross and Motocross since 1972.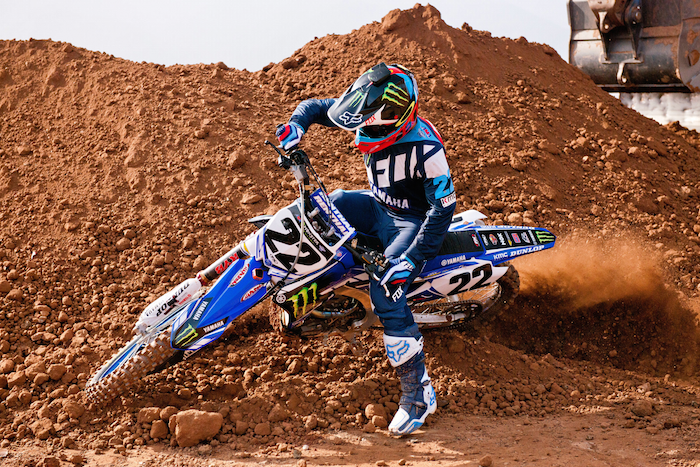 Chad Reed Charging the Berm
"KMC Wheels is very excited about being the official wheel of Team Yamaha, as they represent the experience and passion to win races and championships," said Mike Bell, KMC Sports Marketing Manager.
Keith McCarty, Motorsports Racing Division Manager for Yamaha Motor Corporation, U.S.A., said, "Yamaha is proud to announce our partnership with KMC Wheels. We share the same passion and innovation for racing that drives all of us."
The partnership will not only support the team and its race initiatives, but extend into the business to business realm of powersports divisions for both Yamaha and KMC Wheels. The KMC logo will be placed on team haulers, on the rear fender of race bikes and will include prime jersey placement for the team as they compete in upcoming seasons. Due to its superior performance and excellence in design, KMC Wheels have become one of the most popular selections for professional athletes, drivers and more importantly, the motocross scene.
The second most attended motorsport in the U.S., the 2017 AMA Supercross season kicked off in Anaheim, Calif., on Jan. 7. The complete 17-round 2017 series schedule is available on the AMA's official series website, www.amasupercross.com, and the official AMA series Facebook page: www.facebook.com/AMASupercrossChampionship.
You can find KMC Wheels at www.kmcwheels.com or on social media at:
Facebook: https://www.facebook.com/KMCWheels
Instagram: @kmcwheels
---