Back to News
4th Annual ElliptiGO Winter Classic Attracts Riders from Across the Country
January 19, 2017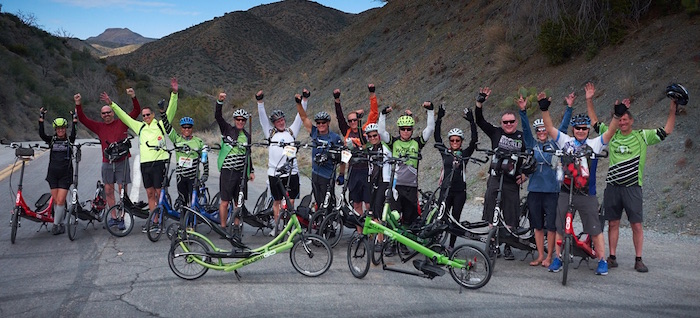 More than 50 people gathered Jan. 13-15 in Scottsdale, Ariz., for the 4th Annual ElliptiGO Winter Classic. Attendees represented 10 states and came from as far away as Florida, New Jersey and Massachusetts. For the second straight year, Jim Cremer flew from his home in Iowa City, Iowa, to San Diego, where he joined Bill Pinnell to ride their ElliptiGO bikes to the Classic. The 420-mile journey took them five days.
The Classic featured group rides on Saturday and Sunday for riders of all levels. After the rides, attendees enjoyed a variety of activities, including sand volleyball, lounging poolside, dancing and socializing.
This was the first year the Classic was organized and run by the newly formed Global ElliptiGO Riders Club (GERC). Jane LeGore, Community Outreach and Event Coordinator for the Club, managed the event and served as the local host, a role she has played since she conceived the Classic in 2014.
"The camaraderie and excitement of the attendees connecting with each other is what makes this event so memorable and, quite honestly, is the number one reason people come back year after year," LeGore said. "Our ElliptiGO rider community makes this event such an incredible experience."
According to GERC President John Pilkington, "Our inaugural Riders Club event was a resounding success, and all the participants had a blast! Jane did an outstanding job organizing the event, and the City of Phoenix was awesome in their support of us as were our sponsors: Athleta, Big Earl's, Clif Bar and ElliptiGO. They provided great swag bags for every participant, and Athleta and Big Earl's also provided delicious food and fun venues."
"The leaders of the Global ElliptiGO Riders Club are some of our earliest and most enthusiastic owners," said Bryan Pate, ElliptiGO CEO and co-founder. "We're excited to have them take the leadership role in forming the independent GERC and building the community. We hope this event will inspire others to step up and organize events globally. When they do, the GERC team and us at ElliptiGO will be there to help provide support."
The next activity organized by the GERC is "Get Out & GO" (GOGO), which begins in March. Club members can earn reward points for participating in different challenges throughout the year.
For more information about the Global ElliptiGO Riders Club, visit http://elliptigoclub.org/. To learn more about ElliptiGO, visit http://www.elliptigo.com/, or follow them on Twitter @elliptigo and Facebook at https://www.facebook.com/elliptigo.
About ElliptiGO
ElliptiGO is the San Diego-based company that created the world's first elliptical bicycle to deliver a fun, comfortable and effective workout experience that inspires people, improves their lives and revolutionizes fitness. Combining the best of running, cycling and the elliptical trainer, ElliptiGO bikes provide a strong cardiovascular workout that eliminates impact on joints and allows people to get out of the gym and enjoy the outdoors. Elliptical cycling is an effective way to build fitness without aggravating injuries, and it is great for everyone from the health-conscious to the elite athlete. The full line of ElliptiGO bikes is distributed through specialty running, cycling and fitness retailers nationwide, on Amazon.com and through http://www.elliptigo.com/
---