Back to News
Chamois Butt'r Announces Key Sponsorships and New Athletes for 2017
January 26, 2017
Chamois Butt'r, the ultimate skin lubricant and chamois cream developed to improve skin comfort, is pleased to announce its support and sponsorship of numerous teams and athletes for the 2017 season. New athletes include endurance specialist and 2015 Dirty Kanza 200 winner, Yuri Hauswald and Luxembourgian cross-country mountain bike racer and winner of the 2016 Roc d'Ardenne UCI Mtb Marathon, Sören Nissen.
When in the saddle for 200 miles, comfort comes first, as Yuri Hauswald explains: "When you spend as much time in the saddle as I do training and racing, you want quality products that will help elevate your performance, which is why I'm excited to be partnering with Chamois Butt'r for the 2017 season. I can't wait for race season to get here!"
Chamois Butt'r is also thrilled to welcome back many returning teams, including long-time Chamois Butt'r sponsored team, Rally Cycling which continues with the current US Criterium National Champion, Brad Huff. According to team member, Jesse Anthony, "Chamois Butt'r has been pleasantly effective in keeping saddle sores and chafing to a minimum. It's a simple method to make riding and racing more comfortable."
In addition to Rally Cycling, Chamois Butt'r welcomes back both Cylance Cycling and UnitedHealthcare Pro Cycling teams to their 2017 family. These teams have relied on Chamois Butt'r products to keep their athletes comfortable when training and racing, allowing them to always perform at their best. "We are excited to work with Chamois Butt'r for all our riding comfort needs. The more comfortable the rider, the more focus can be given to the important task at hand!" said Alison Tetrick of Cylance Pro Cycling team.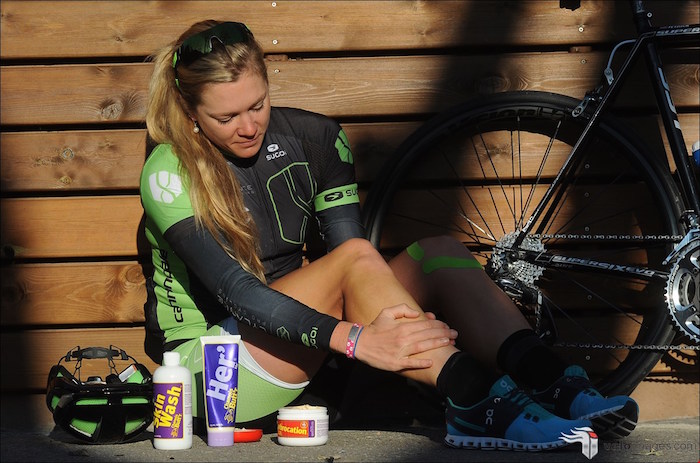 (Alison Tetrick of Cylance Pro Cycling 1)
"I classify Chamois Butt'r as one of those products that always works," said Chris Jones from the UnitedHealthcare Pro Cycling Team. "It is simple and dependable which is exactly what the UnitedHealthcare Pro Cycling requires from a chamois cream."
In addition to their returning teams, Chamois Butt'r partners with two new teams for 2017, Aevolo Cycling's U23 Devo Team and NW Women's CX Project. Aevolo Cycling has two current U23 national champions (Road and CX) and the NW Women's CX Project team placed two U23 riders in the top five at the 2017 US Cyclocross National Championships a couple of weeks ago in Hartford, CT.
Chamois Butt'r is pleased to continue its support of leading professional cycling teams – which includes four women's UCI World Tour professional cycling teams. Below is the full list of the professional teams that Chamois Butt'r will be sponsoring for 2017:
• UnitedHealthcare Pro Cycling
• Rally Cycling
• Cylance Pro Cycling
• Team Colavita/Bianchi pb Vittoria
• Elevate-KHS Pro Cycling
• Aevolo Cycling, U23 Devo Team
• NW Women's CX Project
"Chamois Butt'r is the unsung hero of cycling...whether it's using any of their Chamois Butt'r for smooth riding, using embrocation for those unpredictable, cold spring races, or cleaning off with Sports Wash after a long, dirty stage," said Whitney Allison of Team Colavita/Bianchi. "Chamois Butt'r is behind the scenes making your riding and racing that much better."
"For 2017, we are pleased to once again be using the best chamois cream on the market, as well as utilizing the embrocation to keep our athletes warm in all conditions of training and racing," commented Elevate-KHS Pro Cycling.
Look for Chamois Butt'r affiliated teams and athletes, including their own factory-branded Chamois Butt'r club team, reaping the benefits of its numerous products at an event near you in 2017.
About Chamois Butt'r
Chamois Butt'r® was developed in 1988 via collaboration between physical therapist and avid cyclist Steve Mathews and an experienced and passionate group of pro cyclists, physicians and chemists. In the years since its launch Chamois Butt'r has evolved from an individual product into a full suite of offerings developed to suit the individual preferences of a wide range of athletes, disciplines and conditions. The Chamois Butt'r line is featured on the shelves of most U.S. bicycle retailers and also distributed internationally. For more, please visit: chamoisbuttr.com.
---