BACK TO NEWS
THIRTYTWO® Introduced the All-New TM-Three at SIA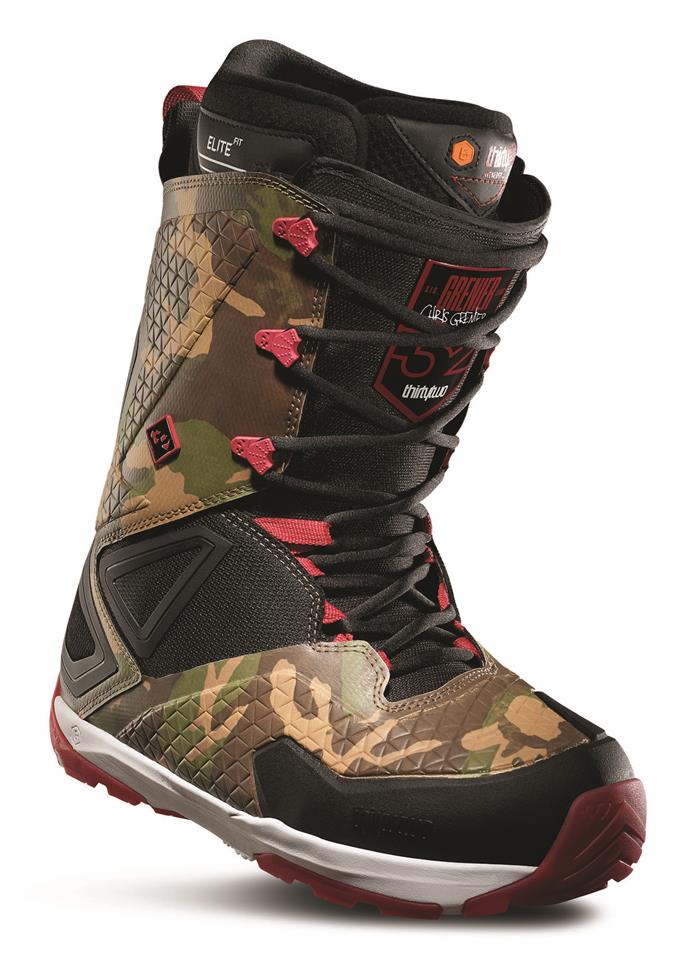 ThirtyTwo® revealed the all-new TM-THREE at the SIA show in Denver last week. Truly fit for snowboarding, the TM-THREE was built with new technology focused on providing customized fit and flex for your unique foot and riding style.
ADJUSTABILE FLEX
This is the first boot in history to feature adjustable recoil flex control giving the rider the ability to alter the flex to fit their style. The ThirtyTwo® Recoil Flex Control rods that are inserted into pockets on either side of the spine change the flex. Inserting both adds support and stiffens the boot from a 6/10 to an 8/10. The rider also has the option to use only one ThirtyTwo® Recoil Flex Control rod for an asymmetrical flex for tweaking.
CUSTOM FIT
The ThirtyTwo® TM-THREE is also the first boot with the new Elite Footbed and Elite Liner. The Elite Liner is an injection-molded shell made from Energy Foam for structure and smoother flex, lined with Intuition Foam for heat molding a customized fit. The Elite Footbed features ThirtyTwo®'s Adaptive Arch Support with four interchangeable arch wedges made for everything from flat feet to high arches. These arches personalize the fit and reduce foot fatigue.
CHECK THE TECH
In addition to the Recoil Flex Control, Elite Liners and Elite Footbeds the ThirtyTwo® TM-THREE is jam packed with these addition technical features:
Exo Armor – Reinforced Shell Construction
Storm Shield – All Weather Waterproofing Seal
Performance Backstay – Enhanced Spine Support

Molded Toe Cap – Rugged Toe Reinforcement

Tongue Tension – Ultimate Heel Lock Down

Internal Lacing – Superior Heel Hold

1:1 Lasting – True Half Sizes

3D Molded Tongue – Even Flex

Articulated Cuff – Eliminates Shell Distortion
The ThirtyTwo® TM-THREE was made to dominate everything from the park to the backcountry.
For the latest on ThirtyTwo, connect with the brand here:
Twitter/Instagram: @ThirtyTwo
Facebook: facebook.com/ThirtyTwo
YouTube: http://www.youtube.com/user/ThirtyTwovideo
About ThirtyTwo:
Established in 1995, ThirtyTwo® was created by snowboarders for snowboarders. Rider-owned and privately held since day one, ThirtyTwo® has led the snowboard market with new and never before seen innovations in technology, performance, comfort and eco-friendly initiatives. All ThirtyTwo® products have been tested and approved by the best snowboarders in the world. For additional information, visit thirtytwo.com.
---