Back to News
American Flat Track names Husqvarna as Official Motorcycle of AFT Singles
February 27, 2017
DAYTONA BEACH, FL - American Flat Track is proud to announce a new partnership naming Husqvarna Motorcycles as the Official Motorcycle of AFT Singles for the 2017 season. To show support for American Flat Track's class for up-and-coming talent, Husqvarna Motorcycles is posting the largest contingency in the history of the Singles class in the amount of $88,700.


"Husqvarna is a brand with a rich heritage in off-road racing and we are delighted to welcome them as a partner to the newly-launched American Flat Track Singles class," said Michael Lock, CEO of American Flat Track. "The 450cc single-cylinder class is a breeding ground for tomorrow's household names in Pro Flat Track and, with Husqvarna's help, we are taking the sport to a whole new generation."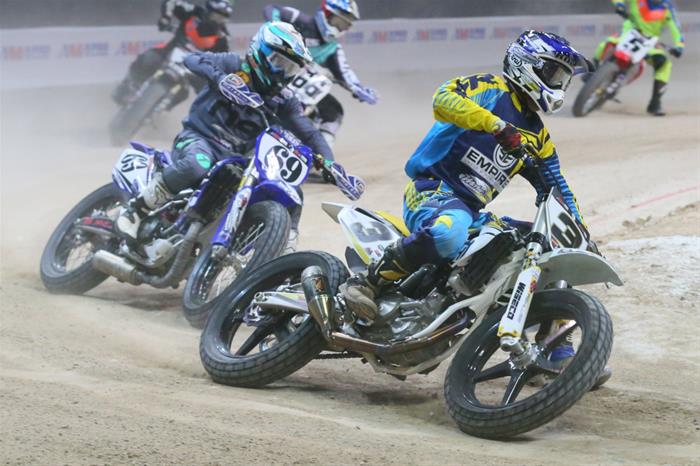 "Husqvarna Motorcycles is proud to support such an iconic motorcycle racing platform. We are excited to engage with the Flat Track audience as we recognize the unique parallels between the Flat Track community and the Husqvarna brand's inclusive nature and pioneering spirit," said Jenna Parker, Husqvarna Motorcycles Marketing Manager. "Husqvarna's 450cc single-cylinder platform is the perfect pioneer in this restructured class of Pro Flat Track competition."
Husqvarna Motorcycles has set a new contingency benchmark for the class. In addition to the $4,650 available at all 18 rounds for riders competing on the Husqvarna FC 450 in the AFT Singles class, there is also a year-end bonus pool of $5,000 up for grabs for riders that finish the Championship in the top-three aboard Husqvarna machinery.
AFT Singles riders competing on a 2015 or newer Husqvarna FC 450 can follow the company's outlined Contingency Program to be eligible for the following per-race contingency payout:
• 1st: $1,500
• 2nd: $1,000
• 3rd: $750
• 4th: $500
• 5th: $250
• 6th: $200
• 7th: $150
• 8th: $100
• 9th: $100
• 10th: $100
For more information about Husqvarna Motorcycles, please visit their website at
http://www.husqvarna-motorcycles.com/us/.

American Flat Track will kick off the 2017 season during Daytona's Bike Week festivities on Thursday, March 16 with the all-new DAYTONA TT, built inside the tri-oval at Daytona International Speedway. The DAYTONA TT will mark the dawning of a new era for America's most historic form of motorcycle racing, and the "World Center of Racing" will serve as the first battleground for the great American war between Harley-Davidson and Indian Motorcycles in 2017. Tickets for the DAYTONA TT are now on sale and can be purchased at www.daytonainternationalspeedway.com.
How to Watch
NBCSN and FansChoice.tv are the official homes for coverage of American Flat Track events. All 18 rounds, from the season-opening DAYTONA TT to the American Flat Track Finals in Southern California, will air in one-hour, tape-delayed telecasts on Thursday nights throughout the summer and fall on NBCSN, while FansChoice.tv provides live streaming coverage of American Flat Track events. FansChoice.tv also provides coverage of IMSA's development and single-make series, and NASCAR's touring and weekly series. Catch all the action at http://www.nbcsports.com/ and http://www.FansChoice.tv.
Husqvarna Motorcycles. Pioneering Since 1903
From their very first motorcycle in 1903, Husqvarna Motorcycles has built a pioneering tradition through a series of visionary street and off-road motorcycle innovations that profoundly shaped both the history and future evolution of motorcycling. A premium quality look and feel is the minimum standard on every Husqvarna motorcycle. The Husqvarna brand was born in Sweden and is defined by its proud Swedish heritage, attitude and design influence. Originally founded in Sweden in 1903, Husqvarna Motorcycles have been designed and manufactured in Mattighofen, Austria since 2013.
Source: American Flat Track
---