BACK TO NEWS
Playboy and NIGHT : SHIFT Bring Excitement to the Bedroom
NIGHT : SHIFT is proud to announce its newest line of bedding products in collaboration with Playboy, one of the most recognized and popular brands in the world. With the Playboy line, which features the iconic Bunny Head logo and vintage Playboy Bunnies, the world has never seen bedding like the NIGHT : SHIFT x Playboy collection! The spring 2017 collection, which includes comforter and duvet sets, coral fleece blankets and throw pillows, is available now.
NIGHT : SHIFT is building its reputation on providing edgy and contemporary fabrics to an underserved pop culture market, and these new designs with Playboy take that commitment one step further. After the latest creative revolution of the brand, Playboy is once again refining its aesthetic for a new generation that appreciate its artistry and culture as seen in the "Naked is Normal" March/April 2017 issue, featuring NIGHT : SHIFT.
"Sixty years ago, Playboy was a new concept that grew into the powerful cultural icon it is in 2017. NIGHT : SHIFT is proud to bring Playboy into the bedroom in a creative new way," said Dan Maiman, co-founder of NIGHT : SHIFT. "As the first-and-only bedding brand of its kind, the founders of NIGHT : SHIFT feel our crowd identifies with the Bunny and wants bring some of the Playboy excitement to their bedrooms."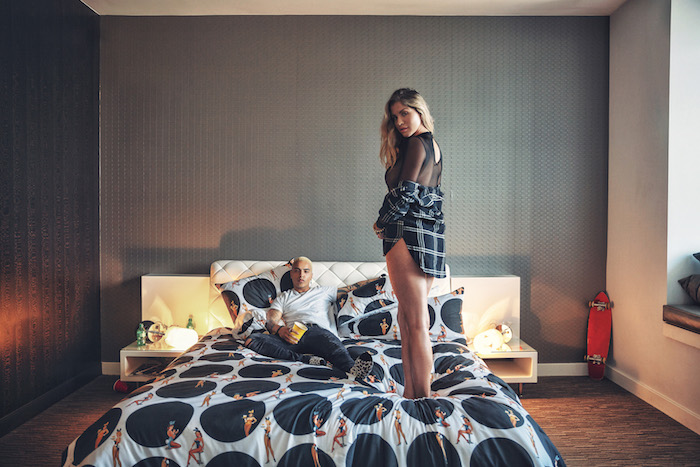 "Playboy is all about bringing fun and style to everything we do, so working with NIGHT : SHIFT on this amazing line of bedding is a perfect fit for us," said Reena Patel, Chief Commercial Officer at Playboy Enterprises. "We think Playboy fans are going to love this new product."
For more information, check out: nightshiftgoods.com, or connect with NIGHT: SHIFT here:
Instagram: @nightshiftgoods
Facebook: facebook.com/nightshiftgoods
About NIGHT: SHIFT
NIGHT: SHIFT wants you to dress your bed. It's the first-and-only home décor brand inspired by music, art, street fashion, skateboarding and beach culture. Youth were curating their wardrobes from head-to-toe, but until NIGHT: SHIFT, there wasn't a brand offering graphic-driven bedding and home goods to fit their style. The company is shifting the way consumers dress their home by constantly offering a fresh collection of unique collaborations and original designs. NIGHT: SHIFT draws inspiration from popular street and contemporary fashion trends to create a seamless narrative that extends from closet to bed.
---