BACK TO NEWS
Kuryakyn Primed to Shine at 76th Daytona Beach Bike Week
The transformation continues as Kuryakyn® kicks off its 2017 event circuit with a bang at the 76th annual Daytona Beach Bike Week. With an all-new rally configuration including a freshly rebranded truck, trailer and displays, Kuryakyn will debut a host of high-profile products, its 2017 catalogs, and a restructured shopping experience that offers attendees access to the entire product line via onsite and online inventory.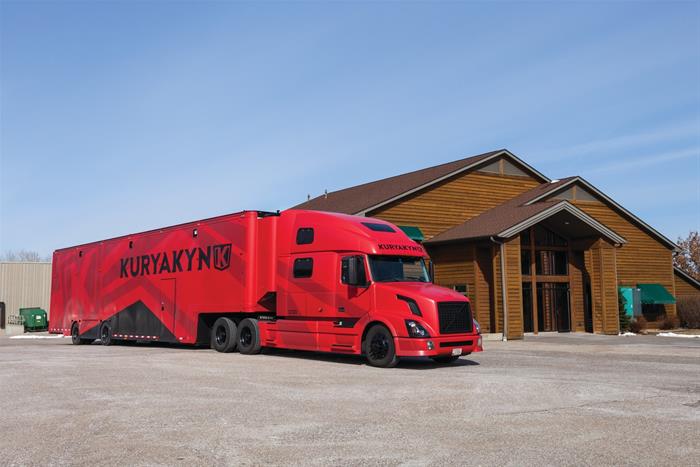 "We're looking forward to turning some heads in Daytona Beach," said Holger Mohr, Kuryakyn president. "Our new rally program puts an emphasis on increased visibility toward new and top-selling products. That, combined with the introduction of convenient point-of-sale technology and entirely revamped displays, will most definitely enhance the customer experience."
Headquartered at Bruce Rossmeyer's Destination Daytona Complex in Ormond Beach, Kuryakyn will be ready to serve riders beginning Wednesday, March 8 through Saturday, March 18. Brand representatives and products will also be available at the J&P Cycles truck located at Daytona International Speedway.
"The Mesh and Riot product launches have received an outstanding response at industry events this year," said Mohr. "Now Daytona Bike Week presents our first opportunity to see and hear the reactions straight from the customers. We're hitting Daytona at full force with a tremendous amount of new products, and our team is excited to get invaluable feedback from new and existing fans of Kuryakyn."
ScootinAmerica Appearance

Kuryakyn is also excited to host special guest Adam Sandoval of ScootinAmerica (www.facebook.com/scootinamerica). Adam's biker Chihuahua "Scooter Trash" has logged nearly 75,000 miles in his Kuryakyn Pet Palace during their world-record ride, and both will be on hand for an exclusive product launch and fan meet-&-greet on Monday, March 13 from 1 p.m. – 4 p.m.
About Kuryakyn
Kuryakyn has been leading the design and manufacturing of aftermarket parts and accessories for the motorcycle industry for the past 27 years. Our ideas are products of expressive minds that realize a motorcycle isn't simply a means of transportation, but rather a representation of a person's very identity. We are dedicated to producing innovative parts and accessories that keep us Miles Ahead.


Source: Motorsport Aftermarket Group
---