BACK TO NEWS
Tahoe Donner's I-Did-A-Run Raises $3,836 for Humane Society of Truckee-Tahoe
As part of North Lake Tahoe's SnowFest 2017, the 13th annual I-Did-A-Run event took place on Sunday, March 12 at Tahoe Donner Downhill Ski Area. Dogs of all breeds and sizes competed in this on-snow dog pull race with proceeds from raffle sales raising $1,836 for the Humane Society of Truckee-Tahoe, and $2,000 from a private contribution.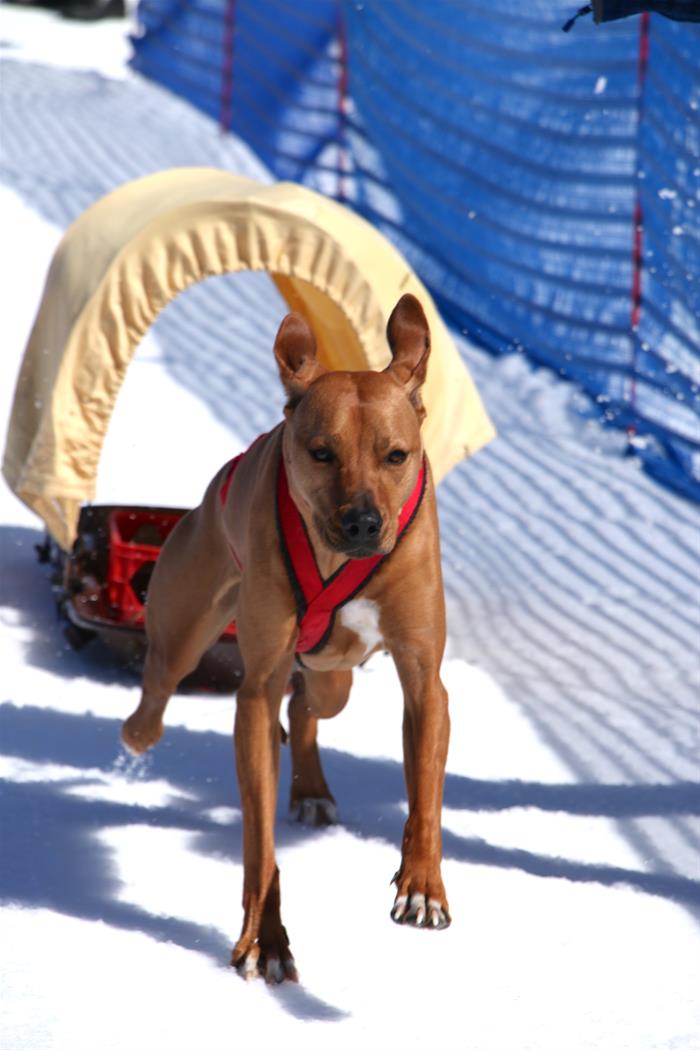 Dogs raced against the clock pulling weighted covered wagon sleds over a snow-covered course. Prizes were awarded to the speediest finishers among four weight divisions. In total, 45 dogs participated in this year's event.
Division 1 winner (0-25 pounds): Maci V., a miniature pincer mix, owned by Tullin Valdez of Truckee
Division 2 winner (26-50 pounds): Raina, a cocker spaniel owned by Dean Eppley of Folsom and a Tahoe Donner member
Division 3 winner (51-75 pounds): Rowdy, a mixed Rhodesian Ridgeback owned by Bryce Rhodes of Reno. Rowdy scored a blistering time of 2.99 seconds and was also crowned overall champion.
Division 4 winner (76+ pounds): Obi, a chocolate lab owned by Lloyd Golden of Truckee
A surprise highlight occurred when Vinny, a Maltese rescue dog, was at the starting line. His owner, Laurie Jean Shaw, announced to the crowd that her family's charitable foundation will contribute $2,000 to the Humane Society of Truckee-Tahoe if Vinny crossed the finished line - which he did.
Tahoe Donner would like to congratulate all the winners and thank everyone who participated in the 13th annual I-Did-A-Run to support and benefit the Humane Society of Truckee-Tahoe.
About Tahoe Donner:
Tahoe Donner is one of America's largest homeowner's associations, with nearly 6,500 properties and 25,000 members enjoying over 7,000 acres in the Sierra Nevada. Located 18 miles from Lake Tahoe in Truckee, California, Tahoe Donner operates a wide variety of recreational facilities, including an award-winning championship golf course, a family-friendly downhill ski area, and a renowned cross country ski area with a newly constructed, state-of-the-art base lodge —all of which are open to the public. In addition, Tahoe Donner operates several member-only facilities, such as a beach club marina, recreation center and pools. These amenities can be explored in detail at Tahoedonner.com.
For more information on Tahoe Donner and its recreational facilities and events, visit tahoedonner.com or call 530-587-9400. 'Like' Tahoe Donner on Facebook and follow on Twitter @tahoedonner and Instagram @TahoeDonnerAssociation.
---