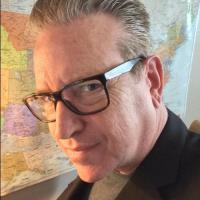 Michael Eckerson
Design Department Mgr. at PPE Inc - AND Editor In Chief - Drive! Magazine Engaged Media Inc
Share profile
Summary
I'm a talented, multi-disciplinary, creative powerhouse that works hard, with personal and professional ethics.

I seek long-term employment at a lively, progressive organization that thrives under an umbrella of management support, thereby creating a vibrant working environment with virtually limitless growth-potential for the team members and simultaneously, the company as a whole. I want to execute my myriad of talents and take on huge challenges. I'm hungry for continuous growth and knowledge acquisition, which I channel back into accomplishment.

Software: (CS/CC) Adobe Illustrator, PhotoShop, InDesign, Quark and Adobe Acrobat. Certified by ESKO for ArtiosCAD 12. Magento Open Source.

Mac/PC platforms. Layout, logo/identity graphics, letterform design, editorial copywriting, package art, advertising, promotionals, mock-ups/dummies, POP, textile, direct-print and offset printing; including pre-press techniques. Traditional medium skills include color theory, paste-up, painting, illustration and photography. Product and promotional video direction, storyboarding, production and editing.