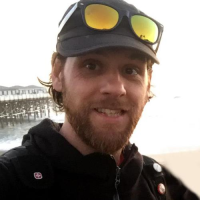 Max Stanley
Web Designer/Developer | Video Production Specialist | Trusted Google Photographer | Digital Content Manager
Share profile
Summary
I am an avid cyclist who has been working as a web developer and UX/UI designer in Ocean City, MD for almost 8 years. Now I'm looking to combine my passion for cycling with my talent for web design and find a career in the bike industry.

Working with creative teams to brainstorm and flesh out designs is where I shine. I've taken leadership roles on many successful projects and I'm also happy to work under someone else's creative direction. I enjoy traveling for work and always try to make time for a ride wherever I go. And in my spare time, you can find me volunteering as the art director and webmaster for my local IMBA chapter, or developing my own website for unicyclists (oddcycle.com).

While I enjoy working in an office, and did so for many years, I prefer to work remotely. I'm willing to relocate for the right job, but I'm disciplined and have a strong work ethic, so I'm able to work effectively from home. I'm tech savvy and have nearly a decade of practical experience building websites and managing content for clients, so as long as I have my laptop and a wifi connection, I'm working for you!