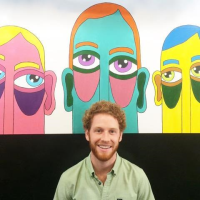 Maximilian Mueller
Artist / Illustrator / Graphic Designer / Apparel Designer / Product Designer
Share profile
Summary
Creative professional primarily working in the action sports, lifestyle and fashion industries.

Select Clients:
Vans, Adidas Skateboarding, Mountain Dew, Arizona Iced Tea, NYSkateboarding, Street Plant Brand, Mike Vallely, RVCA, Chrome Industries, Baus Headwear, Vigilante Coffee Company, Ace Coffee Company, &pizza among others.

Select Exhibitions:
The Juxtapoz Clubhouse, House of Vans, SoHo Arts Club, Seeing Things Gallery, Blind Whino Gallery, The Fridge Gallery, CineCycle Gallery, Howard Theatre, Hotel on Rivington, The Bklyn House Hotel among others.

Select Publications:
Juxtapoz Magazine, Juice Magazine, Bitchslap Magazine, Step Dad Magazine, Barnes & Noble, Scholastic, Wall Street Journal, CanCulture, 12th Street Journal among others.

Select Charities:
Wounded Knee Skateboards, Stronghold Society, Changing Tides Foundation, Cool Culture, Groundswell Mural Project, Walk of Art among others.