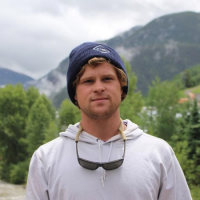 Jake Wheeler
Account Executive at RootsRated, Outdoor Industry, Graphic Design, Photography, Problem Solving
Share profile
Summary
Hello. I'm Jake.
I currently work with RootsRated Media and we partner with Outdoor and Tourism Industry companies on B2B SaaS content marketing programs. I have a passion and expertise in sales, marketing, design, and photography.

I'm a self-starter who has shown his ability to take an idea from concept to completion. I enjoy starting with an idea, creating a concept, helping sell it through, and then organizing and executing every step of the project. Throughout my career, I've forged relationships with dozens of outdoor brands, retailers, tourism organizations and just as many industry-related nonprofits.

I believe in the power of relationships and have strong design, interpersonal, written and verbal communication skills. I have an appetite for social media, am an active user, and have a passion for staying in the loop on the latest social media trends, capabilities, and platforms. I possess a high level of self-motivation, design aesthetic and love for all types of culture.