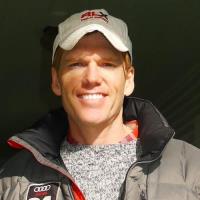 Markus Hutnak
Product Development Executive & Expert in Outdoor and Athletic Product Innovation including Graphene & Sensor Technology
Share profile
Summary
As an award-winning and forward-thinking Product Development Executive and mountaineer, I've earned a reputation for innovation and product creation, jumpstarting 100s of millions in sales in the technical outdoor and performance lifestyle market for Ralph Lauren, The North Face, and The National Geographic Society—championing best-in-class products to consumers around the globe.

- Recognized as the first in the US to introduce silver-based anti-microbial yarns in a technical baselayer garment and the first to include reflective/radiant heat coatings in outdoor garments.

- Developed world-class waterproof/breathable, down and soft-shell jackets and earned awards from Backpacker Gear Guide, Angling Trade International, and Backpacker (SonicDry baselayer, youth wading boot, and Drion baselayer).

- Turned around licensed sales for National Geographic with a global product collection that generated $750M within 7 years.

- Doubled wholesale revenue for The North Face's outerwear and snow sports division.

- Propelled Saks' Ruff Hewn brand to tens of millions in sales and set the stage for 100s of millions in future revenue.

I leverage my expertise to identify new white space opportunities for brand growth and development and inspire breakthrough products and compelling marketing. Throughout my career, I have demonstrated a drive toward innovation, speed, and flawless execution.