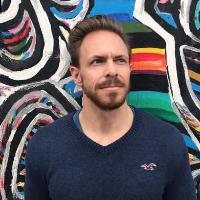 Justin Wallendorf
CREATIVE DIRECTOR / UI UX DESIGN / PRODUCT DESIGN / ART DIRECTOR / GRAPHIC DESIGNER / FREELANCER
Share profile
Summary
• Designer of 3 Nike Africa Logos.
• Designer for Nike FIFA World cup 2010.
• Creative for FIFA Club World Cup 2018.
• Creative Director AFC Asian Cup 2019.
• Creative Director for The National Aquarium of Abu Dhabi 2020.
• A Distinction in art at college.
• The only student to have 2 art pieces selected at his college to go into a national art gallery tour.

Leverage strategic vision, business acumen, and artistic talent to deliver high-impact creative designs.

Successfully directing and implementing a broad range of ATL and BTL design projects from conception to launch. Translating business requirements into effective outcomes. Build consensus cross-functionally to ensure projects meet all milestones, deadlines, and budget requirements.

Always adapting to new technology and innovative processes, while ensuring compliance with customer/client and brand needs and standards.