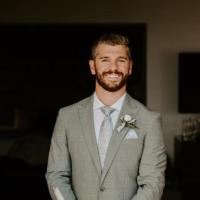 Colton Lewin
Certified Training Instructor and Organizational Leadership Student Pursuing MS
Share profile
Summary
High-Energy, innovative, and focused.

Before enlisting in the service, a fast-paced kitchen at a well-respected restaurant prepped me to be expeditious. In the military, listening was imperative; not only to what WAS being said but also what WASN'T being said. These exposures have energized me to make team meetings efficient, productive, and stimulating. Whether working alone or as part of a team, I am equally capable and comfortable with comprehensive and creative problem-solving.

Although my time in the military has ended, I was fortunate enough to have experienced several years as an instructor. Teaching has allowed me to become extremely comfortable with speaking to groups of people. A few of the skills and contributions I offer include communicating in high-hazard environments, leading diverse groups, and training others on my team. I am eager to connect with businesses that might benefit from the skills I can offer! I am continuously seeking out industry leaders to discuss career opportunities, experiences, or direction in more detail.

Specialties: Security Management; Leadership; Bilingual (English and Spanish); Diverse Team Building; Effective Communication; Training Skills; Adept to Change; Conflict Resolution; Crisis Management.